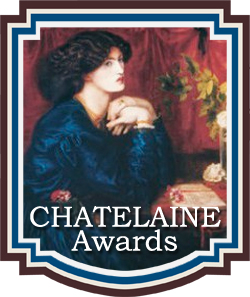 The heat wave continues in August and our Chatelaine Awards for romantic fiction are sizzling! Books ranging from inspirational to contemporary romance; adventure & suspense to historical romance; and, of course, the steamy and sensual will throw down their satin gloves to duel for this fair prize.
Women's Fiction is also included in the Chatelaine Awards. Women's Fiction is defined as novels devoted to women's life experiences, exploring the female psyche, and are more oriented to female readers.  Women's fiction does not have to have a "happily ever after" ending that depends on a relationship, whereas romantic fiction does.
For example: The script for Pretty Woman is romantic fiction (Vivian, the prostitute, lives happily ever after with her wealthy "client" who leaves his well-bred fiancee for Vivian); whereas the script for BUtterfield 8 would be considered women's fiction (Gloria, the prostitute, doesn't fair nearly as well and spirals emotionally downward as we learn of her specifically female experiences). Note: BUtterfield 8 is spelled correctly with the capital B & U as it was a telephone number designation).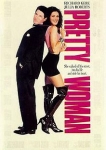 As the August 31st deadline for submissions approaches the competition is really starting to heat up. Don't miss this opportunity to earn distinction for your novel. Enter today!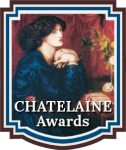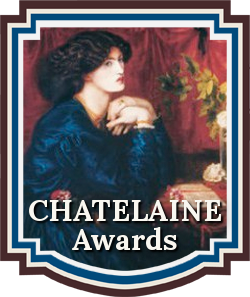 All category winners have the opportunity to attend our spring Award Gala ceremony that takes place during the 2017 Chanticleer Authors Conference where they will be whisked up on stage to receive their ribbon in a magical evening including dinner, networking opportunities, and celebrations–not to mention free reviews, and the chance to win the grand prizes and cash!
The Chatelaine Awards for Romantic Fiction History of Winners:
2015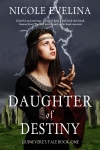 Daughter of Destiny by Nicole Evelina won the Chatelaine category for "Legacy/Legend" and then went on to take home not only the 2015 Chatelaine Grand Prize, but also the Chanticleer Grand Prize and was named Chanticleer's Best Book of 2015! "Daughter of Destiny is the first of three historical fiction novels in the series of Guinevere's Tale, by Nicole Evelina, that is narrated by Guinevere….an independent woman of strength and fortitude, who finds herself at odds with a world in which her gifts are a liability, and her passions put her and her homeland at great risk."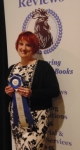 Nicole Evelina is an award-winning historical fiction and romantic comedy writer. She spent 15 years researching Arthurian legend, Celtic Britain and the various peoples, cultures and religious practices that shaped the country after the withdrawal of Rome.
2014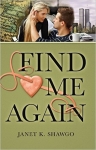 In 2014, Find Me Again by Janet Shawgo won the Chatelaine Grand Prize. One of a trilogy this paranormal romantic mystery novel, which begins just one year before 9/11, answers the question: Can true love conquer death? "Find Me Again is a mystery, conspiracy theory and an amazing love story that crosses generations—all combined into one amazing read."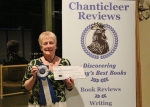 Janet K. Shawgo has worked as a travel nurse for over twenty years, specializing in high-risk labor and delivery. She has traveled across the United States, working in numerous hospitals. This is her third book in the Look for Me series. She again combines her passion for nursing with her interest in women's roles in the military. She resides in Galveston, Texas.
2013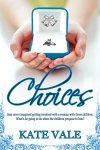 And in 2013, Kate Vale won with Choices "…a modern day romance story set in small town USA about a seemingly perfect family that ends up experiencing the harder side of life. The story is heart wrenching, but it is ultimately inspiring even though it deals with divorce, infidelity, and relationships. This novel uniquely shows the gritty and often ignored side of what families with kids go through when a marriage breaks apart."
Kate Vale is a writer of powerful and passionate women's fiction and romance. She is drawn to write about the issues that today's women face often face.  Most of her titles center in the Pacific Northwest or the Western United States.
2012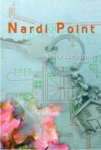 Nancy LaPonzina's Nardi Point won the 2012 Chatelaine Award for Romantic Fiction and Women's Fiction. "…Nardi Point develops into a lovely, nuanced tale with the layers of relationships uncovered like strata of earth, revealing harsh truths and personal epiphanies." This 
Thoughtful women's fiction with a dollop of archaeology, the meta-physical, and alternative healing modalities are what Nancy LaPonzina writes. She resides in North Carolina, where several of her novels' locations are based.
Your book could earn a place in our Chatelaine hall of fame for 2016 Best Books.
All you have to do is to enter your manuscript or published novel.
What are the Chatelaine Awards?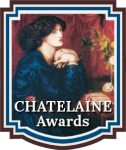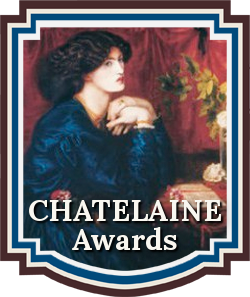 Our Chatelaine Awards are the Chanticleer Reviews search for the best romantic fiction books of 2016!
We are looking for the best books featuring romantic themes and adventures of the heart, legendary love affairs, perhaps a little steamy romance, along with women's fiction that explores the issues of being female. Our judges read, rank, and comment on each entry and then choose the best among them. (Also: check our other contest genres for romance categories as well, such as paranormal, young adult, mystery, etc., multiple submissions are welcome)
Our Chanticleer Review Writing Contests feature more than $30,000.00 worth of cash and prizes each year! 
~$1000 Overall Grand Prize Winner
~$2800 in Genre Grand Prizes
~$28,980 in reviews, prizes, and promotional opportunities awarded to Category Winners