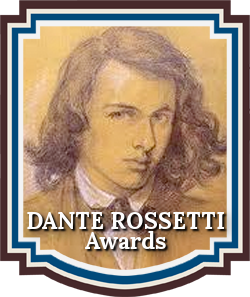 The Dante Rossetti Book Awards recognize emerging new talent and outstanding works in the genre of Young Adult. The Dante Rossetti Book  Awards is a genre division of Chanticleer International Book Awards (#CIBA).
Rossetti Book Awards is looking for the new best books featuring stories of all shapes and sizes written to an audience between the ages of about twelve to eighteen. Science Fiction, Fantasy, Dystopian, Mystery, Paranormal, Historical, Romance, and Literary.
Information about  the #CIBA Long Lists and Short Lists
These titles have moved forward in the judging rounds from SLUSH pile to the 2018 Rossetti  Book Awards LONG LIST (aka the Slush Pile Survivors). We incorporate the Long List when the judges request an additional round of judging to accommodate the number and/or quality of entries received.  These entries are now in competition for the 2018 ROSSETTI SHORT LIST. Short Listers will compete for the Semi-Finalists positions. Semi-Finalists will compete for the coveted First  Place Category Winners of the 2018 Rossetti Book Awards in the final rounds of judging.  The First Place Category winners will automatically be entered into the Dante Rossetti GRAND PRIZE AWARD competition.  The 16 CBR Grand Prize Genre Divisions Winners will compete for the CBR Overall Grand Prize for Best Book and its $1,000 purse. First Place Category and Grand Prize Awards will be announced and recognized at the Chanticleer Awards Banquet and Ceremony on Saturday, April 27th, 2019, Bellingham, Washington.
These titles are in the running for the SHORT LIST of the 2018 ROSSETTI  Book Awards novel competition for Young Adult Fiction.
Andrea R. Smith – Ensnared
Janeen Swart – The Hidden Truth
JoAnna Rowe – Flowers & Fire
Olivia Bernard – The Balance and the Blade
Averil Drummond – Gloam
Jennifer Healey – Speak American
Luke Jacket – Stuck-up Scumbags of the Eighth Grade 
Carmela A. Martino – Playing by Heart
Robert Wright Jr – Unwanted
David L. Carter – From the Edge of the World
Gina Detwiler – Forlorn
Cheryl G. Bostrom – Climb, Run, Drown
Alex Paul – Tookan Attack
Annaliese Plowright – Bleeding Hearts
Dan Morales – The Scouts of St. Michael Operation Archangel
D.C. Carlisle – Surviving Eros: The Paradox of Jayne Le Faye
Susan Miura – Healer
Lynn Yvonne Moon – Whispers
Leslea Wahl – An Unexpected Role
Anne Sweazy-Kulju – Grog Wars, Dos
Tiffany Brooks – Reality Gold
C.A. Gray – Uncanny Valley
Molly Lazer – Owl Eyes: A Fairy Tale
Tom Edwards – The Honourable Catherine
Andrea and William Vaughan – 2nd Gen
Denise Lammi – Lucid World
Mara Gan – Joined
P. L. Hamilton – League of Potioneers
Jacinta Jade – Change of Chaos
Chuck Vance – Sneaking Out
Andrea Murray – Something New
Andrea Murray – White Knight
Susan Faw – Soul Sacrifice
Sarah Mendivel – Sam's Theory
Christy Nicholas – The Enchanted Swans
Jennifer Alsever – Ember Burning: Trinity Forest Book 1
All Short Listers and SemiFinalists will receive high visibility along with special badges to wear during the Chanticleer Authors Conference and Awards Gala.
Good Luck to each of you as your works compete for the Dante Rossetti  Book  Awards Short List.
To view the 2017 Rossetti  Book Awards winners, please click here.
The Dante Rossetti Grand Prize Winner and the First Place Category Position award winners will be announced at the April 27th, 2019 Chanticleer Book Awards Annual Awards Gala, which takes place at the Chanticleer Authors Conference that will be held in Bellingham, Wash. 
We are now accepting submissions into the 2019 Dante Rossetti Book Awards writing competition. The deadline for submissions is May 30th, 2019. Please click here for more information. 
As always, please do not hesitate to contact us with any questions, concerns, or suggestions at Info@ChantiReviews.com.