Lodging & Travel Information for the Chanticleer Authors Conference 2019: April 26, 27,  & 28, 2019
Conference Location: Hotel Bellwether, Bellingham, Wash. conveniently located between Seattle and Vancouver, B.C.
Air Travel:
Fly into either Seattle, Wash. (Seatac) or Vancouver, British Columbia with easy ground transportation (scroll down) to Bellingham, Wash.
Or direct into  Bellingham, Wash. (BEL) from some major West Coast cities (LAX, Los Vegas, Hawaii, Portland, etc.)
Lodging
Lodging at conference site: The Hotel Bellwether
The luxurious Hotel Bellwether is offering a conference rate starting at approx. $198 per night for non-water views. Conference rates are available on most rooms to CAC19 attendees. Please call the hotel, at 360-392-3100, and ask for the Chanticleer Book Reviews Group Rate.
The Hotel Bellwether is a luxury waterfront hotel overlooking Bellingham Marina and Bay is close to shops and restaurants. Rooms have gas fireplaces, imported Italian furniture, whirlpool tubs, free WiFi, flat-screen TVs and DVD players, plus private balconies or patios.  There are a restaurant and bar along with a fitness center, and jogging trails which lead down to the sea. Free underground parking is available.
The Heliotrope Motel   has just 16 rooms. It is a transformation of a 1950s motel into modern Pacific Northwest lodging. The Heliotrope Hotel is in the center of it all, located less than a mile from Bellingham's downtown core, a haven at the heart of things to settle in after you've gone out.  The Heliotrope is a one-of-a-kind hotel, offering a sense of place unique to PNW region, setting it apart from the lack of individuality of larger hotel chains.  It is reasonably priced. You must call and ask for the Chanticleer Conference rate  (the online booking will show that it is full because we have reserved all of the rooms for CAC19 attendees). 360-201-2914
Other nearby lodging:
The Guest House, a Red Lion Inn on Lakeway, is offering lodging starting at $66 per night. All bookings include a complimentary hot breakfast with eggs, bacon, waffles, bagels, yogurt, muffins, cereal, etc. and juice and coffee/tea. Rooms include Internet access, Cable TV, Refrigerator, Coffee Maker, and Hair Dryer.  The Guest House is 3.6 miles from the front door of the Bellwether Hotel (less than ten minutes by car – no highway). Complimentary airport shuttle between Bellingham Airport and The Guest House (9 to 5 daily, please confirm time and date with front desk). Free parking.
Please call the hotel directly to make reservations at (360) 671-9600. Ask for the Chanticleer Authors Conference rate and room block.

The Guest House, a Red Lion Inn, Lakeway Avenue, Bellingham
Sheraton on Lakeway (less than three miles from the Hotel Bellwether.
[Note: We cannot recommend any lodgings that are located on Samish Way. We advise not to book lodging in this area.]
Transportation
UBER: download the Uber app on your smartphone before you leave on your trip. Bellingham is very Uber friendly.
Taxi Services: Yellow Cab 360-733-8294, Your Cab Company 360 746-4943, Blue Cab 360-734-3787
Airporter Shuttle / Bellair Charters:  http://www.airporter.com/  1-866-235-5247
This shuttle service will get you from Seatac to Bellingham and back. Comfortable ride.
Air Travel:
You can fly directly into Bellingham International Airport (BLI) and take a shuttle or rental car to the Hotel Bellwether (a 13 minute drive).
Or, you can fly into Seattle's SeaTac Airport (SEA), which may cost less, and either:
Rent a car and drive up to Bellingham

Take the BOLT Bus from Seattle Train Station to Bellingham ($15 ). Use the light rail to go from SeaTac to downtown Seattle Train Station.
Take the Airporter Shuttle from SeaTac to Bellingham (close to both hotels)
For more information, please contact us at: info@ChantiReviews.com
Sightseeing
Things to Do While You are Visiting Bellingham, Wash – the Pacific Northwest –Chanticleer Authors Conference, Awards Banquet, and Book Fair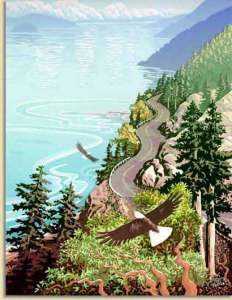 Chuckanut Drive – world famous drive along the Salish Sea starts just south of Fairhaven. It is curvy and narrow scenic two-lane drive. 21 miles of vistas with pullouts.
OYSTERS & SEAFOOD – from the Source – Taylor Shellfish
www.chuckanutdrive.wordpress.com
Larrabee State Park is also on this drive.
Breweries galore! Boundary Bay Brewery, Chuckanut Brewery, Kulshan Brewery, Wander Brewery, — you get the picture.
Bellingham is the Beer Snob capital of the U.S. and we are proud of it.  To hang out with the cool kids, go to The Redlight on State St.
Historic Fairhaven Village – with Village Books, boutiques and art galleries, gourmet pizzerias, bistros and eateries, and, of course, a great pub – Archer's Alehouse (Kiffer says this place has the best food in B'ham. You can find live jazz in Fairhaven at Skylark's on Thursday, Friday, and Saturday nights – 8 p.m. to midnight. Le Chat Noir for a drink in a hip place. Also, The Gainesbarre, is tres chic bar for natural wines & beers.
It is HALIBUT season! If you love halibut, then order it and get it fresh from the local fisherman at the area restaurants.
It is TULIP season! Take a short drive down to Skagit County to see fields and fields of tulips – the most outside of Holland! Treat yourself to some fresh tulips – they are for sale everywhere.
Mount Baker Drive – there is still a lot of snow on the road up to Mount Baker, but it is a beautiful drive.
CULTURAL
Pickford Art Film Theatre, Whatcom Museum – Downtown,
UpFront Comedy Theater – Ryan Stiles,
Sports
Bike rentals at Fairhaven Village, Paddle Board Rentals, small boat rentals – Fairhaven Boat Coop, decent golf courses are available.
Bellingham Bay – Did you know that some of "The Deadliest Catch" fleet is based out of Bellingham?  You can walk the docks to see the fishing fleet prepare for the season or walk the docks to gander at the sailboats.
When you have worked up an appetite, head to Nicky's Bella Marina for the best fish and chips in town and a cold local brew! This is "a joint" where the locals hangout.
Boulevard Park – a great walk that is ADA, kid and dog friendly that is right on the waterfront adjacent to Fairhaven Village. Stop by and get a coffee at Wood's Coffee.
Kiffer's suggestions for Dining Out
Downtown Café, Avenue Bread, OVN Pizza, D'Anna's, Black Cat /Le Chat Noir, Archer's Alehouse, EAT, Boundary Bay, Nicky's,  Mount Bakery, The Lighthouse Grill (Bellwether), Guiseppe's, Anthony's, Hearthfire, Blue Fin Sushi, Kyoto Japanese Steakhouse, 100 North.
We have UBER for transportation – download the app if you haven't done so already for an UBER convenient way to get around.
We can also recommend BLUE Cab.   360-734-3787
Whale Watching/San Juan Island Touring:  Enjoy a sunny day on the water.
Mount Baker Theatre: Historic Performance Venue.
The SPARK museum of Electrical Invention: See a display of innovations that changed the course of human history.
Downtown Bellingham: Shops and restaurants.
Historic Fairhaven: Home of one of the best indie bookstores in the country Village Books.
Plus countless natural wonders: Mount Baker, Lake Whatcom, Whatcom Falls, Boulevard Park to name a few.
We hope you enjoy your visit and discover a little bit of why Bellingham, WA was ranked as one of the greatest American cities for writers.