SIBA Regional Tradeshow Exposure with Chanticleer Reviews
SIBA Regional Tradeshow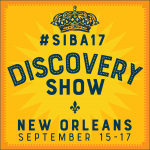 Do you want to reach more booksellers, publishers, librarians, book distributors, agents, foreign rights agents, media, and book enthusiasts?
Has your book has earned a four or five starred review from Chanticleer Reviews or has earned a First Place Category Award, or was awarded a genre grand prize in the International Chanticleer Writing Competitions?
Let us exhibit them for you at the Chanticleer Reviews Collections showcase. We love discovering today's best books and we want to help them get exposure and readership!
If so, then it is eligible to be shown with the vetted Chanticleer Reviews Collections at our stalls and vendor booths at bookseller trade shows. We attend the top bookseller tradeshows in North America and we would love to promote your book along with its Chanticleer Review.
Expand your market and readership, save money, time, and energy while showcasing your titles professionally with us at regional bookseller trade shows. Take advantage of the buzz and energy of trade shows while getting more eyeballs on seeing your works are being exhibited to publishing professionals and book buyers.
Chanticleer Reviews will be exhibiting at SIBA 2017:
Southern Independent Booksellers Association: Sept. 15-17, 2017 (New Orleans, LA)

Cost per single title registration $125, two titles $180, three titles $250, four titles $320, five titles $ 395. All titles must be from the same author to receive the multi-title discount.
To promote more than five titles, please contact TradeShowDirector@ChantiReviews.com
Author/Publisher must supply 3 to 5 print copies of the title.
Sell Sheets, bookmarks, & postcards that are provided by the author/publisher will be displayed with the books.
Title and Sell Sheet for each book must be received by deadline will be included in online catalog,
Representatives from Chanticleer Reviews will collect any business cards/contacts and pass through any information to the publisher/author.
The Fine Print

All inquiries will be passed on directly to the author/publisher submitting titles for showcasing.
Authors/Publishers are responsible for fulfilling and following through with any leads or inquiries.
Authors/Publishers are responsible for Sell Sheet information.
A Sell Sheet must be provided for each title. Chanticleer Reviews can create a Sell Sheet for you for $50.
Chanticleer Reviews does not distribute books or take book orders. If you are interested in Hybrid publishing or Book Distribution, please contact us for more information.
Chanticleer Reviews, L.L.C. does not receive any royalties from any book sales/orders that come through Trade Show Representation.
Brand:
Chanticleer Book Reviews
ISBN Designation for each title registered
Are you registering more than one title?
No, only one title (0) Two Titles for $180 (80) Three Titles for $250 (150) Four Titles for $320 (320) Five Titles for $395 (295)
Email address for communication
Telephone/Cell Number (We do not give this out without your permission.)
Do you want us to create Sell Sheets? They are yours to have and use.
Yes, One Sell Sheet one Title (48) Yes, Two Sell Sheets for Two Titles (96) Yes, Three Sell Sheets for Three Titles (144) Yes, Four Sell Sheets for Four Titles (202) Yes, Five Sell Sheets for Five Titles (250) No, thank you. I will supply my own Sell Sheets (0)
Join the Chanticleer International Community of Authors and Readers!
Click here to join the Chanticleer Community! A collaborative community of authors and aspiring writers.