Silver Foil Stickers for SHORT LISTED BOOKS for the Chanticleer International Book Awards
Short List Silver Stickers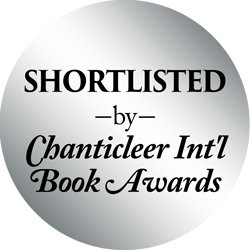 Has your book been SHORT LISTED by Chanticleer Reviews for the International Book Awards?
If so, it has earned the right to proudly wear a Silver Foil Chanticleer SHORT LISTER book sticker!

SHORT LISTER Stickers are exclusively available for titles who were short listed in the Chanticleer International Book Awards.
Congratulations on earning a SHORT LISTER position in the prestigious Chanticleer International Book Awards!

Now let the world know with our eye-catching silver foil book stickers -- We know a promotional sticker can make a difference in sales. A consumer is automatically drawn to the sticker, and there's a good chance he/she will pick up the book and at least look at the first few pages.
Description
ROUND Silver Foil Stickers that one inch in diameter.
150 stickers per order. Order more than one batch at a time to save on postage and handling costs!
Great for promoting blogs and contests, too!
Stickers are $56.00 U.S.D. per 150 stickers plus mandatory Bellingham, Wash. sales tax.
Please check the appropriate Postage and Handling fee for U.S.A. ($8.00 U.S.D.),
or International Rate ($38.00 U.S.D.).
We will verify your order with the Official Chanticleer Short Listers list.

Please expect 4 to 6 weeks shipping time.
Brand:
Chanticleer Book Reviews
Short Listed by Chanticleer International Book Awards
Postage and Handling for Inter'l shipping (38)
Title of Work Short Listed
Year Title was Short Listed
Join the Chanticleer International Community of Authors and Readers!
Click here to join the Chanticleer Community! A collaborative community of authors and aspiring writers.