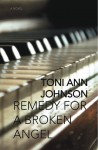 Publisher: Nortia Press (2014)
Buy the book now at:

Amazon
Author's Website
The novel, Remedy for a Broken Angel, is an intense examination of the troubled personal histories of two beautiful and talented women of color. Their stories are told in alternating chapters which reveal the mother's and her daughter's attempts to reclaim and understand their broken pasts. Each chapter is a revelation into the pain and damage caused by unknown family secrets. Both women struggle with a legacy of shame and self-blame for the price they're paying for never hearing the truth. Each must learn the lessons found in past years of failure to communicate.
The beautiful mother, Serena, is a successful Bermudian jazz singer and songwriter who is consumed by anger over feeling unloved as a child. Years later, her hurt and confusion over being abandoned by her family cause her to repeat the past by leaving her own marriage and abandoning her twelve year old daughter.
Artie, Serena's lovely daughter, is an excellent photographer who constantly battles with the same destructive demons of abandonment, loss, shame and betrayal as does her mother. She finds herself at age twenty-six in a psychiatric hospital in Malibu, California. There, she receives caring support from her psychiatrist, Dr. Phoebe Ligon, in trying to understand her rage and need for revenge against Serena.
Serena's and Artie's struggles through the years are a deep, painful journey as they each must try to learn to forgive the other. Somehow, they must bridge the chasm of mutual feelings of betrayal caused by misconceptions, falsehoods and many lost years with no communication.
Remedy for a Broken Angel is an extraordinary novel about digging out from years of suppression to find forgiveness and to forgive. Johnson writes with authority about the world in which the characters in her novel live as they endure an endless struggle for the truth. She deftly exposes the many faces of patterns of abuse and how the "unseen hand" perpetuates and feeds the demons within in this literary work of contemporary women's fiction from Nortia Press.
The author, Toni Ann Johnson, is a winner of a Humanitas Prize for promoting human dignity for her screenplay, Ruby Bridges. Johnson's professional experience in dance, music, film, and stage production lends authenticity to the sonorous background and subtext of the work. As you read Remedy for a Broken Angel, you might just hear the strains of jazz composer Charles Mingus' music seeping throughout Johnson's novel in its refrains and riffs of the complications of relationships.