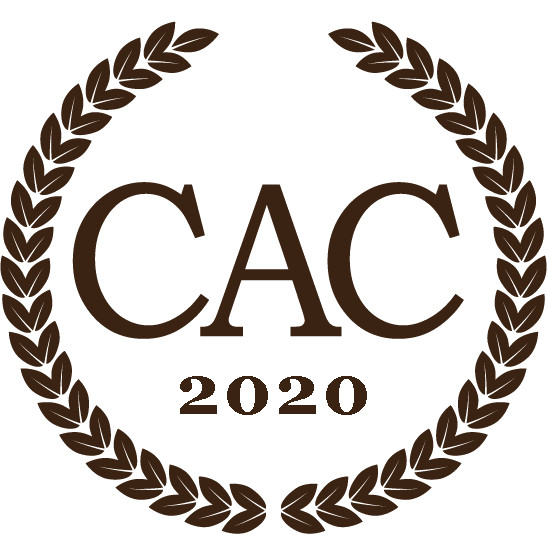 and
Travel Information
can be found here.
Book your lodging
before they
sell out!
We also have a link with updates about CAC 20 and Status in regard to the Coronavirus (Covid-19) on this web page. Click on the Lodging and Travel Information Link Above. 
Chanticleer Authors Conference 2020 #CAC20 is a GO!
September 4 – September 6, 2020
Speakers have confirmed!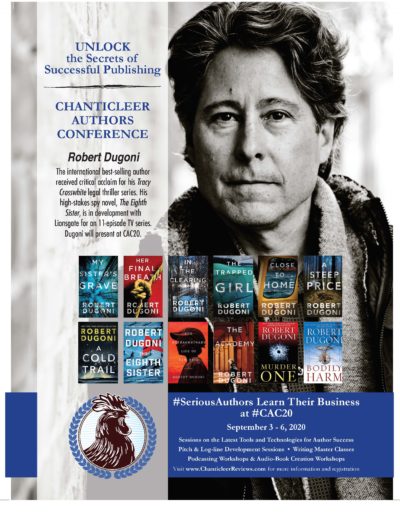 Robert Dugoni – critically acclaimed New York Times, #1 Wall Street Journal and #1 Amazon Best Selling Author of The Tracy Crosswhite series, The Charles Jenkins Series and the David Sloane series. Since 2013, Dugoni has sold more than 5,000,000 books in the series, and My Sister's Grave. His new espionage Charles Jenkins series' first book The Eighth Sister is currently in development with Lionsgate Productions for 11-episodes for TV.  His books are sold world-wide in more than 25 countries. 
Scott Steindorff, CEO of Stone Village Productions, will join us again and share the latest insider information for the Film Industry. He is currently in production for a film adaption of Station Eleven by Emily St. John Mandel. On October 18, 2019, it was announced that Station Eleven would be adapted into a 10-episode miniseries that will premiere on HBO Max. Hiro Murai is set to direct, with Patrick Somerville as showrunner and writer. They will both also serve as executive producers alongside Scott Steindorff, Scott Delman, and Dylan Russell. The miniseries will star Mackenzie Davis as Kirsten and Himesh Patel as Jeevan.
Paul Cutsinger – Head of Amazon Alexa – (100 million devices in use) Voice enabled technology and how it affects storytelling and book distribution.
Chris Hindenburg – CEO of Hindenburg Systems – Audiobook and podcast production tools & best practices
Simon-Pierre Marion – CEO of Bookchain by Scenarex – a brand new platform to publish and distribute ebooks on blockchain technology.
Jessica Morrell – Top-Tier Developmental Editor and teacher of writing workshops and sessions.
 Janice S. Ellis, Ph.D., award winning author has written a column for newspapers, radio, and now online, for the last 30 years where she analyzes educational, political, social and economic issues across race, ethnicity, age and socio-economic status. Janice Ellis holds a Ph.D. in Communication Arts, and two Master of Arts degrees, one in Communications Arts and a second in Political Science, all from the University of Wisconsin, Madison, Wisconsin.
Amy Stapleton – Amy Stapleton is Co-Founder of Chatables, a publisher of voice first conversational stories and tools to support authors. Prior to Chatables, Stapleton founded Tellables and served as voice app designer,  writer and editor of content for the Tellables Amazon Alexa story experiences "Tricky Genie" and "My Box of Chocolates. Stapleton retired from a career at NASA to pursue her vision of transforming talking devices into a platform for engaging new story experiences.
Diane Garland – Founder of YOUR WORLD KEEPER editorial services – the secret to writing a successful book series
Joy Ross Davis After a twenty-five year career as a college English professor, she retired and traveled to Ireland where she worked as a writer and photographer, publishing numerous travel articles and photos for a travel agency. She has been a contributing feature writer for a local newspaper and has published articles in Southern literary magazines. Her first novel, Countenance, won the Gold Medal for Excellence from Readers' Favorites. Her newest novel The Madwoman of Preacher's Cove won the Grand Prize in Paranormal Fiction in 2018 from Chanticleer Author Awards in Seattle and was picked up for publication by Wyatt-MacKenzie Publishing.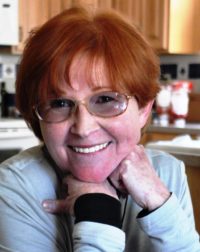 Cami Ostman – Founder of the Narrative Project – psychotherapist and writing coach
Pamela Beason – author of 14 mysteries and experiences BookBub user. She will share her knowledge of Bookbub and how to write a sustained series with us.
Wendy Delaney is the author of the award-winning Working Stiffs Mystery series and a sought-after "plotstormer" who loves to help other writers develop their story lines.  With over twenty years in the business of being an author, Wendy speaks at regional writers' conferences and has coached writers to help them map out their stories as well as their author goals. As a veteran of both the traditionally published and indie author worlds, she has a wealth of experience she loves to share with other writers.
Additional presenters as of Feb. 15, 2020
Elana Mugdan
Janet K Shawgo
Sean Dwyer
Susan Faw
Joy Ross Davis
Denise Ditto Satterfield
Please check back often as we continue to add presenters on a weekly basis. We will have more information about the presenters on the faculty page.
Don't delay. Register Today. 

Audiobook Creation – Best Practices – taught by Chris Mottes & Martin Swanholm
Podcast Creation – Best Practices – taught by Chris Mottes & Martin Swanholm
Scribd – the Netflix of Publishing – Kiffer Brown
Content Pyramid – Repurposing Your Content for Promotion and Digital Platforms
Ambient Computing World & Books & The Internet of Things
Direct to Consumer (Readers)

Tools, Tips, Services,

& Best Practices to Increase Sales and Maintain Readership

Metadata, SEO, and Analytics

– Their roles in the publishing industry & digital marketing plus tips and tools for implementation – Adam Woods, PublishDrive

Blockchain and Publishing

– How it changes publishing & distribution

The Future of Publishing

–

AI and Machine Learning

– How will these technologies change publishing and distribution

The New Media Publishing World

– Voice Driven Content –

Audiobooks & Podcasts

– New ways of monetizing content – the 411 on

Audiobooks – Creation & Distribution Best Practices

Voice Assistants

and How They are Changing the Publishing Industry on All Fronts
Chanticleer Authors Conference core sessions
Branding, Marketing, Distribution, and Selling Platforms,
Book Promotion, Expanding Market Share, Sales Tools & Strategies,
Career Development
Pitching to the Entertainment Industry
Social Media Strategies, and How to Connect with Individuals in a Global Market

Exposure and How to Engage with the

Latest Technologies and Services

in the Content and Publishing Industry available to Indie Publishers

Building a Successful Author Business and Maximizing Income
Advanced Writing Craft Sessions 
Increase Sales on Amazon

and other E-Pub Selling Platforms Tips and Tools  – Adam Wood
---
Please click here to see the six different conference packages that are available plus Master Classes.
---
Here is what some attendees are saying the 2018 Chanticleer Authors Conference.
The testimonials, statements, and opinions presented on our website are applicable to the individuals depicted. Results will vary an may not be representative of the experience of others. The testimonials are voluntarily provided and are not paid, nor were they provided with free products, services, or any benefits in exchange for said statements. The testimonials are representative of Chanticleer's customers but the exact results and experience will be unique and individual to each customer.
I wanted to say thank you for creating such a fabulous event. This was by far the most productive conference I have ever attended! Each workshop was packed with valuable information to help every author on their path to publication, no matter what their genre or where they are in their writing career. I look forward to attending next year! 

All the best,  Kim Davis A Game of Deceit

This conference and award dinner is the best I've ever attended. The conference showcased well-known authors and editors, and in each session, I learned something new that will help my writing. And the Awards Dinner! I can't say enough about it. It was fantastic. Like attending the Oscars. Everything – all weekend – was so well done and thought out and ran so smoothly, you'd think Chanticleer had an army of 100 working for them. All of this against a beautiful water view setting in Bellingham, Washington. By far, the most fun I've ever had at a conference, and considering all the sessions, lunches, and dinners, etc., a great value.

Thank you! Elaine Williams Crockett

Thank you so much for all your work setting up the Chanticleer organization. Winning a Grand prize means more to me than I can express. I feel like a lottery winner. It's a life-changing award that I expect will propel my new career.

Again, thank you! Avanti Centrae

I continue to be thrilled at the support and recognition from Chanticleer Reviews. I made two very good friends at the conference, and I learned valuable information, nitty-gritty stuff, that's available nowhere else. What a class act! 

PJ Devlin

Many thanks for providing this wonderful opportunity to enable one's book to reach higher in the eyes of the reading public. 

Cheers and best, Prue Batten

You continue to do a massive job so well. Congratulations on the growing success and reputation of the awards. And please extend my appreciation to your team. 

Warm wishes, Elisabeth Storrs, HNS Australiasia

Many thanks for the amazing conference, the wonderful sessions and guest speakers and the fabulous awards night. We had such fun, learnt a great deal and made some special friendships. 

Catherine Wilsons (A & T) – Australia 

Chanticleer is Awesome! 

Kari Rhyan 

I really want to thank you again for the incredible event last month. The Chanticleer community is very welcoming, and I'm happy to be a part of it! 

TK RIGGINS

My 10 second elevator pitch for why submit in a Chanticleer contest is quoting from Cool Hand Luke where he says, "Only Bastards and Cream rise to the top." If you submit to Chanticleer you at least can find out whether your book has the potential of becoming cream. Your contest is open and inclusive, an admirable goal for writers and society as a whole. … And once again, thank you so so much for putting on this conference. I am telling my writer friends to submit and to plan on attending CAC2019.

 Alex Paul

Thank you so much for this amazing honor! It was truly a surreal and amazing moment to win. Still can barely believe it! Definitely one I'll never forget! I'm so grateful to you and everyone that makes Chanticleer possible. I've never met a more dedicated, supportive group of book lovers. I will happily come to the conference next year to present and participate. Can't wait.

Michelle Rene, HOUR GLASS

and there are more testimonials for CAC!
Check back for the latest news about CAC20
We have the perfect registration packet for you! 
Join us at #CAC20 to learn to improve your book marketing and promotion skills, build your author brand, and sell more books, located at the beautiful Hotel Bellwether, at Squalicum Harbor on beautiful Bellingham Bay, in Bellingham, Washington conveniently located between Seattle and Vancouver, B.C.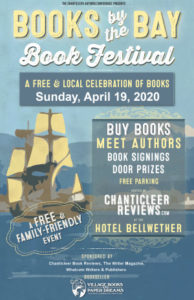 A Book Fair managed by Village Books!
During the conference, a Book Fair, open to the public, hosted by Village Books, will feature the books of attendees and presenters.
As an added bonus the best selling books of the weekend will be featured at both of Village Books locations!
Visit our Book Fair page for more details.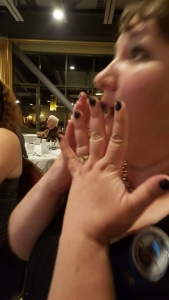 An Awards Banquet for the 2018 Chanticleer International Writing Competitions
And the crowning (ahem, crowing) gem of #CAC20 is the Awards Banquet that will take place on the evening of Saturday, September 5th, when we recognize the First in Category winners and announce the Grand Prize Genre Winners and the Overall Grand Prize Winner of the  2019 Chanticleer International Writing Competitions Book Awards! 
Friday, Saturday, Sunday September 4, 5, & 6, 2020
The New Era of Content Creation in All Its Forms
Chanticleer Authors Conference
Our conference package offers:
Sessions with a special focus on the business of being a working writer with topics such as marketing, publicity, platform, sales tools & strategies, publishing, production, distribution, organization, story craft, editing, and more.
An amazing lineup of presenters and faculty.
A staffed book room where ALL attendees may have their books for sale all weekend, culminating with our book fair on Sunday, open to the public.
Lunches and dinners throughout the conference, plus tickets to our Award Gala on Saturday.
A fantastic community of like-minded authors for all the support and sharing of experience and advice you could ever want
Vendors and businesses invested in your success. Gifts from sponsors, like The Writer magazine, will be handing out free copies of their publication to attendees and free subscriptions to the grand prize winners of our writing competitions.
Click here for CAC15's Photos – see what you could be missing if you don't register today!
Previous attendees had this to say:
"You made me, a first time author, feel like a writer. In addition, I found the conference unique, focused, and an amazing learning experience." Nancy Adair, Bellingham
"Thanks for an amazing conference. It was a blast to meet so many talented people, and I learned a ton. I came home bursting with ideas for new stories as well as ways to better market and sell the ones I have. It was more than worth the cost of attending."
Scott Smith, author of AN OUTCAST STATE, Hawaii
Please click on this link to see the six options available at this time.
Chanticleer Conference Tracks:
Marketing, Publicity, Platform (MPP) – Social media savvy, author websites, branding, driving discoverability, cultivating readership and gaining exposure in today's market.
Sales Tools & Strategies (STS) – Sales Facilitators: Covers, Reviews, Early Readers, Pre-sales, etc. Applying business sense to sales strategies. Currency Exchange: Dollars for exposure.
Publishing, Production, Distribution (PPD) – Form & Design. Pitches & Concepts. Working with booksellers. Current Publishing Trends. New Digital Media. And More.
Story, Editing, Development (SED) – We're writers. Naturally, we're gonna talk about writing.
Organization, Motivation, Self-help (OMS) – Get your mind on the right page.
A Touch of Hollywood (ToH) – It wouldn't be the West Coast without it.
Networking & Fun (NetFun) – Special events and networking opportunities.
Kaffee Klatsches (KK) – Informal gatherings led by some of our speakers and guests.
You do NOT have to be a published author to attend this conference!  Aspiring authors, and writers of all levels, will benefit immensely from this conference. We will also offer "writing concept" classes to get you on your way!
CAC2o REGISTRATION PACKAGES
*Refunds are available until January 31, 2020 with a $25 deduction for administrative costs. Please email: admin@ChantiReviews.com for more information.
**Chanticleer Authors Conference 2020 reserves the right to cancel or change speakers and programs at anytime.
Meet other members of the Chanticleer Community of Authors and Readers at this fun and informative event featuring:
CBR Awards Banquet–You don't have to be a CBR winner to attend this exciting event! 

We will have a Book Room for attending authors that will be open to the public

Conference with workshops/social media sessions/marketing lessons

Networking Opportunities

Prizes and Drawings
Single Day Passes and Multi-Day Passes are available
Companion passes for dinners and cocktail parties are available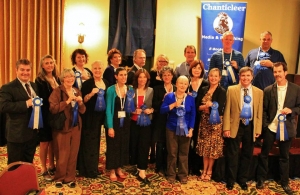 The Chanticleer Awards Banquet and Conference will feature:
Three full days of classes, sessions, author events, and a book fair
Coffee, tea, and snacks daily
Luncheons, Cocktail Parties, Dinner, and the Awards Gala & Banquet
Presenter opportunities for attendees. Please submit your class proposal asap, time slots limited
The Chanticleer Awards Gala & Banquet honoring our 2018 contest winners and naming the Best Books of the Year
Keynote Speakers
Exhibitors: Publishers, Author Services, Platform Services, Author/Reader Apps, etc.
Book sale opportunity for conference attendees and presenters
Book Room: OPEN to the PUBLIC on Friday, Saturday, and Sunday
Book Room: Author Signings and Panels, Door Prizes and Drawings Sunday
CAC19  Exhibiting Space, Advertisement, and Sponsorship opportunities are available. Please email KBrown@ChantiReviews.com for more information.