Congratulations Semi-Finalists and Shortlisters!
Click here or scroll down to get your Semi-Finalist Digital Badge
12 Things to do if you are a SEMI-FINALISTS and  SHORT LISTERs in the Chanticleer International Writing Competitions and Book Awards:
Register for the Chanticleer Authors Conference.

All Semi-Finalists in attendance will be recognized at the conference and at the Awards Ceremony. If your title was moved forward from out of the slush pile to the Finalists List, and then made the third cut to be a SHORT LISTER, you are entitled to say that you are a Chanticleer Book Awards Short Lister or (Your Genre) Short Lister! You can put that on your book cover, order Short Lister Book Stickers, and use the Short Lister Digital Badge in the promotion of the short-listed book.  

And at the Awards Ceremony, you can walk up to the podium and accept your Semi-Finalist Ribbon.  

The First Place Category Winners are determined from the Official Semi-Finalists of each of the genre writing competitions. The Grand Prize winners are determined from the 5 First Place Category Winners.  First Place Category Winners and the Grand Prize Winners are announced the night of our Awards Gala so you will want to be there if your name is called.

The conference will also have a public, 3-day, staffed book room managed by Village Books (# 5 ranked Independent Bookstore in the U.S. by Publisher's Weekly) where all attendees books may be featured and sold.

Of course, you do not have to be present to win or receive your book's  award package. However, it is a great time! 
Announce, promote, push it out there into the universe. Tweet about it. Use Hashtags like:  #CIBASemiFinalist   #CIBA  #chanticleerfamily. And don't forget to mention @chantireviews so that we may re-tweet it for you!
Update your website to reflect your Finalist, Short-Listed, Semi-Finalist, First Place Winner, or Grand Prize winner status. Update your book page on Amazon. Goodreads. Kobo. Wherever you can enter book award information about your book, be sure to do it!
Be sure to use the snazzy digital badges that we supply.  Use them to promote you and your award winning book!
Put it on your bookmarks, postcards, shelf-talkers and other promotional material.
Put it on your book cover. A small blurb on the front cover is usually the classiest way to go.
And don't forget about book stickers –proven effective point-of-sale tool!
Find your digital badge below and use it on your social media, blog posts, and website. It is designed for digital use, not print use. It will look best in a digital medium.
Digital Badges for SHORT-LISTED Titles in the Chanticleer International Book Awards
(SEMI FINALIST Badges scroll down for digital badge)
To download, right-click the image and choose "save image as."
Use this badge:

Click here to order Shortlisted book stickers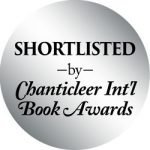 SEMI-FINALIST BADGES
Now this is somthing to CROW about! Aren't these gorgeous!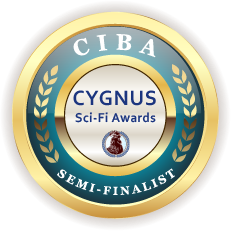 This is one example of a digital semi-finalist badge.
To download, right-click the image and choose "save image as."
2019 Digital Badges for the CIBA Semi-Finalists are posted below: 
Cygnus Awards
Global Thriller Awards
Journey Awards
I & I  Awards
Mystery & Mayhem  Awards
Gertrude Warner  Awards
Dante Rossetti  Awards
Chaucer Awards
Goethe  Awards
Laramie  Awards
Chatelaine Awards
Clue Awards
Little Peeps  Awards
OZMA  Awards
Paranormal  Awards
Somerset  Awards
Click here to order SEMIFINALIST Book Stickers.