CAC20 Schedule of Sessions 
Unlock the Secrets of Successful Publishing at #CAC20
CAC 20 and the 2019 CIBA Ceremonies will be HELD VIRTUALLY September 8 -13, 2020.
As many sessions as possible will be LIVE and INTERACTIVE.
CAC 20 will be held VIRTUALLY on ZOOM along with the 2019 CIBA Ceremonies
NEW DATES:   SEPTEMBER 8 – 13, 2020  (Tuesday – Sunday)
PLEASE NOTE THAT THE CONFERENCE Information below is for 2021 CAC (fingers crossed!) 
Chanticleer Master Writing Craft Classes – Thursday, April 15, 2021
The registration sign-in will take place in the Board Room at the Hotel Bellwether in the main building.
Chanticleer Author Conference Sessions Begin Friday, April 16, 2021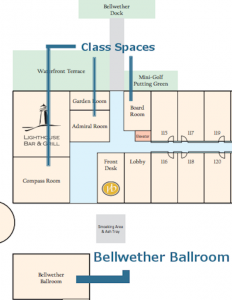 Location: Hotel Bellwether, Squalicum Harbor
1 Bellwether Way, Bellingham, WA 98225
Breakout Rooms for Friday (See map on Right):
Board Room
Compass Room
Admiral's Room
Garden Green Room (adjacent to Admiral's Room facing the water)
The Ballroom 
Ballroom (across from main hotel) and
Ballroom Foyer (aka the Book Room managed by Village Books
FREE PARKING – There is FREE PARKING with elevator access at the Hotel Bellwether. If your lodging is at the Hotel Bellwether, there is secured parking available under the hotel with elevator and stair access.
If you are not staying at the Hotel Bellwether, but require on-site parking please take advantage of the FREE underground parking that is directly below the Bellwether Hotel's ballroom. Elevators and stairs are available. Signage will give you easy to follow directions.
Sessions: 
Session Descriptions
Session Schedule
**Sessions are subject to change**
Registration Sign-In:
Registration opens at 8:30 a.m. Friday morning in the Bellwether and continues throughout the weekend. When you arrive, please check in with Chanticleer's registration desk inside the Hotel Bellwether's Ballroom to receive your conference badge and information packet.
We can't wait to see you!
As of July 2, 2020, we have NOT updated the schedule for the VIRTUAL CAC20 Conference.
Please check back after July 7, 2020!
Session Descriptions:  (THESE ARE FROM THE ORIGINAL DATES — Before COVID-19.
Please keep checking back! Thanks – the Chanticleer Team
Special Masterclasses (MC): Limited attendees, intensive hands-on workshops on Thursday, September 3, 2020

 Master Classes will take place on Thursday, September 3, 2020 at the Hotel Bellwether. Register at the Boardroom.
Jessica Morrell will teach the morning session (9:30 a.m. – 12:30)
Robert Dugoni will teach the afternoon session (1:30 – 4:45)

AudioBook Creation Workshop with Hindenburg Systems – Sunday morning
Podcast Editing Workshop with Hindenburg Systems – Sunday afternoon
Storycraft, Editing, Development (SED): Tools, tips, advice for improving your craft and making your words shine.
Marketing, Publicity, Platform (MPP): From social media savvy to author websites and brands.
Sales Tools & Strategies (STS): Clever promotion, timing, strategies, tools and techniques for optimal sales.
Publishing, Production, Distribution (PPD): Form and design. Pitches. Book Blurbs. Covers. Book Design. Current publishing trends. New digital media. The Nitty Gritty — from Kiffer Brown
A Touch of Hollywood (ToH): It wouldn't be the West coast without it.
Networking & Fun (NetFun): Special events and networking opportunities.
KaffeeKlatsches (KK): Informal gatherings led by some of our terrific speakers and guests in the ballroom.
Author Panels (AP)
SESSION Listings  #CAC20
Storycraft, Editing, Development (SED):
Marketing, Publicity, Platform (MPP):

 Sales Tools & Strategies (STS):

Bookseller Confidential: Covers & Shelf Talkers & POS – oh my! Books have, maybe, two or three seconds to catch a book buyers attention — professional or consumer. Find out how to make your books sell themselves. Kiffer Brown
Publishing, Production, Distribution (PPD):
Hollywood & Entertainment (H&E):
Writing Life (WL)
TIME TIME TABLE   2020
Scheduling in Progress, last updated February 26,  27, 2020. SUBJECT TO CHANGE. As with any conference, all scheduled sessions are firm…until they are not.
Please check back we are updating the schedule daily with the latest information. Thank you, Kiffer  (Feb. 26, 2020)
Changes in the schedule may occur up to when we go to print – Kiffer Brown
Regular Conference Sessions (Fri-Sun sessions) are held at the Hotel Bellwether
Time
Ballroom
Ballroom Atrium
Boardroom
Compass
Admiral
Garden Room
Fri 8:30 am
Registration Sign-In Available

Coffee/Tea

Exhibitors

KaffeeKlatches

Book Room Set-up
Fri 9:10  – 10:00 am
N/A
Writing Craft

Secondary Characters with Jessica Morrell

Fri 10:10- 11:00 am
 
N/A
Writing Craft with Robert Dugoni
Fri 11:10- 12:00 pm
 Not Available
N/A
Diane Garland, Pamela Beason, Susan Faw, Wendy Delaney – Why Authors Should "Series" and How To
Angels and Demons: Believing the Unbelievable with Joy Ross Davis
Fri. Noon – 1:00
LUNCHEON

Keynote featuring Robert Dugoni

Dugoni Book signing immediately after luncheon
Luncheon in Ballroom
Luncheon in Ballroom
Fri 1:10 – 2:00 pm
Clean-up after luncheon
Dugoni Book signing immediately after luncheon
Fri 2:10 – 3:00  pm
N/A
Panel Discussion on the Entertainment Industry with Robert Dugoni & Scott Steindorff SS waiting on schedule confirmation).
Fri 3:10-4:00 pm
N/A
The 7 Must-Haves for a Successful Series – Wendy Delaney and Diane Garland
Fri 4:10 – 5 pm
N/A
5 pm

Fri 7:15 pm Dinner Reservations at local restaurants

Cocktail Party sponsored by the ROOST
N/A
Room Closed
After Dinner Rendevous at Hotel Bellwether Fireside Lounge
N/A
N/A
Saturday, April 27, 2018
Time
Ball Room
Ball Room Atrium
Boardroom
Compass Room
Admiral's Room
Sat 8:30 am
Registration All Day
Book Room Set-Up
Sat. 9:00 – 9:50 am
 Drop off time for books
Subplots: the Stories within Stories — Jessica Morrell
Sat. 10:00 -10:50 am
Coffee & Tea Available

KaffeeKlatsch

Writing Sci-Fi, Paranormal, & Fantasy with Joy Ross Davis, Sharon Anderson, Judy Dawn, Diane Garland, and Susan Faw

 Drop off time for books
Just Call Out My Name – Janet Shawgo and Sean Dwyer
11- 11:50 am
Ballroom closed for luncheon set up
 Book Room Open
Tools of the Trade: Continuity and Story Bibles by Diane Garland
How to Make your own AudioBooks by author Elana Mugdan and Hindenburg Systems
Sat. 12:00 –  1:00 pm
Luncheon – KeyNote 

Paul Cutsinger – Amazon Alexa – Voice Driven Technology and Publishing

Book Room Open
Luncheon
Luncheon
Luncheon
Luncheon
Sat. 1:10- 2:00 pm
 Clean up & Set-up
Book Room Open
Interactive Fiction Writing with Paul Cutsinger
Sat. 2:10- 3:00 pm
KaffeeKlatche with Paul Cutsinger and Amy Stapleton – Voice Driven Story telling 
 Book Room Open
Sat. 3:10-4:00 pm
The Scroll Free Life lead by Elana Mugdan – Kaffeeklatch
 Book Room Open
Sat. 4:10 -5:00 pm
 Book Room Open
 Sat. 5 – 5:45 pm
Ballroom Setup

Break!

Book Room Open
Closed
Closed
Closed
 Sat. 6 pm

7:15 pm

until?

Cocktail Party (no-host bar) & Appys at 6 p.m.

Awards Banquet Begins

Book Room Opens Immediately after Ceremony
After Awards Ceremony Drinks in the Fireside Lounge – Hotel Bellwether
Sunday, April 22, 2018
SUNDAY
Ballroom
Ballroom Atrium
Board Room
Compass Room
Admiral Room
Garden Room
 Sun. 9:30 am
 Registration- Open All Day
9:30 – 10:20
AUDIOBOOK CREATION Workshop by Hindenburg Systems
10:30 – 11:20 am
AudioBook Creation Workshop by Hindenburg Systems
11:30 – 12:20 pm
AudioBook CreationWorkshop by Hindenburg Sytems
12:30 – 1:30 pm
Lunch –

Final Raffles

Lunch and Book Room Break

 

PODCAST EDITING Workshop with Hindenburg Systems
 
2:30 – 3:30
PODCAST EDITING Workshop with Hindenburg Systems
3:30 –  4:30
PODCAST EDITING Workshop with Hindenburg Systems
4:30
PODCAST EDITING Workshop with Hindenburg Systems
Please check back as we update and tweak the schedule! Looking forward to seeing you soon! ~Kiffer