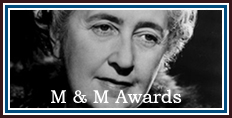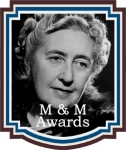 The M&M Awards recognizes emerging new talent and outstanding works in the genre of  Cozy Mysteries and Classic Mysteries. The M&M Awards is a division of Chanticleer International Blue Ribbon Awards Writing Competitions.
More than $25,000.00 dollars worth of cash and prizes will be awarded to Chanticleer Book Reviews 2014 writing competition winners!
The M&M Awards FIRST IN CATEGORY sub-genres  are:  Amateur Sleuth, Romance, Animals, Cooking/Knitting/Hobbies, Blended Genre, Medical/Lab, Travel, Humorous, Historical, Classic British, Y/A, and Senior Sleuth.
The following titles will compete for the FIRST IN CATEGORY Positions and Awards Packages.
The Finalists Authors and Titles of Works that have made in through the first three rounds of the M&M 2014 Novel Competitions are:
Danger Comes Home by Judy Alter
No Place Like Rome by Julie Moffett
Mrs. Kaplan and the Matzoh Ball of Death by Mark Reutlinger
Civil Blood by Linda Triegel
Grand Theft Death by  Ann Philipp
Sex, Lies, and Snickerdoodles by Wendy Delaney
The Deep End by Julie Mulhern
Peete and Repeat by Karen Musser Nortman
The Only Clue by Pamela Beason
Sati and the Rider by Winslow Eliot
Behind the Walls by Elaine L.Orr
Find Me Again by Janet K. Shawgo
Murder on the Bermuda Queen by Cheryl Peyton
The Ghost of Laurie Floyd by Courtney Mroch
Tax Cut by Michele Lynn Seigfried
Kauai Temptations by Terry Ambrose
The Wham Curse by Virgil Alexander
Contempt of Court by Ken Malovos
Her Father's Daughter by Kate Vale
Who Killed Tom Jones by Gale Martin
Sydney West by R. McKinsey
Parchman Redeemer by Michael H. Thompson
Ladd Springs by Dianne Venetta
The Green Remains by Marni Graff
Killed Milk by Stephen Kaminski
Dead Silent by Amy Beth Arkawy
Summerville by JoHannah Reardon
The M&M Finalists will compete for the M&M First In Category Positions, which consists of Four Judging Rounds.  First Place Category Award winners will automatically be entered into the M&M GRAND PRIZE AWARD competition. The CBR Grand Prize Genre Winners will compete for the $1,000 purse.   

All First In Category Award Winners will receive high visibility along with special badges to wear during the Chanticleer Authors Conference and Awards Gala.
First In Category winners will compete for the M&M Awards Grand Prize Award for the $250 purse and the M&M  Grand Prize Ribbon and badges.
TEN genre Grand Prize winning titles will compete for the $1,000 purse for CBR Best Book and Overall Grand Prize.
A coveted Chanticleer Book Review valued at $325 dollars U.S. CBR reviews will be published in the Chanticleer Reviews magazine in chronological order.
A CBR Blue Ribbon to use in promotion at book signings and book festivals
Digital award stickers for on-line promotion
Adhesive book stickers
Shelf-talkers and other promotional items
Promotion in print and on-line media
Review of book distributed to on-line sites and printed media publications
Review, cover art, and author synopsis listed in CBR's newsletter
Award winning books may be eligible to be included in the  Chanticleer Collections (which sell and promote the winning titles) in North America through Promontory Distribution. The Chanticleer Collection is represented toIndependent Book Stores and major bookseller chains such as Barnes & Noble and Books A Million through an exclusive agreement with Promontory Distribution for our vetted Chanticleer Collection. Participating in the Chanticleer Collections is not required.
The Chanticleer Collection is our way of helping new Indie authors find North American distribution for their titles, but is in no way mandatory. Self-published and Indie published authors in our pilot program have found the CC to be extremely beneficial in increasing sales and readership.

As always, please do not hesitate to contact us with any questions, concerns, or suggestions at Info@ChantiReviews.com. We promise to reply. 

Default First in Category winners will not be declared. Contests are based on merit and writing craft in all of the Chanticleer Writing Competitions.
Congratulations to the Finalists in this fiercely competitive contest! 
Good Luck to all of the M&M Finalists as they compete for the coveted First In CATEGORY positions for the 2014 M&Ms.
First In Category announcements will be made in March 2014. Results will be announced in social media as they come in.
The M&M Grand Prize Winner will be announced at the September 29th Chanticleer Annual Awards Gala, which takes place on the last evening of the Chanticleer Authors Conference.
We are now accepting submissions into the 2015 M&M Awards writing competition. The deadline for submissions is March 30th, 2015. Please click here for more information.