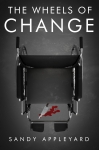 Publisher: Sandy Appleyard
Buy the book now at:

Amazon
Author's Website
Wheels of Change, the latest in a trilogy of suspense novels by author Sandy Appleyard, opens with the fatal stabbing of a supposedly perfectly ordinary bank employee, investigated by two police detectives.
Jake Campbell's fellow employees have nothing bad to say about him, and the detectives uncover nothing in the bachelor's background that would serve as a motive for murder. However, Jake is not who he appears to be at first glance, and through his misbehaviors, he caught the attention of a killer.
From there, Appleyard interweaves the stories of a host of characters, most of whom have made bad choices in their lives, choices that have consequences. The main character, Simon Cross, a womanizing advertising executive, frequently acts with callous disregard toward others. His mother, a co-dependent drug addict, has problems of her own. Clara, an alcoholic and a cheating wife, is married to Max, a construction worker who has no qualms about attempting to murder Simon for sleeping with his spouse.
As the cops investigate further, they shift their focus to Max, Clara's husband. Before they can arrest him, Chase McCann, a noted sports journalist, is murdered, and Max goes on the run. They locate and arrest Max, but while he is in custody, a third murder of a prominent character occurs.
Are the cops dealing with a serial killer? And if so, what ties the murders of these people together? How does the killer select his victims?
Appleyard expertly draws together these disparate stories, seen primarily through the eyes of investigating detectives and Simon Cross, who struggles to recover from a debilitating car accident, hold his business together, and put his life back together.
In a surprising twist, as Simon works to change and become a better person, he will face his greatest challenge yet, for the killer is closing in on his next victim.
Wheels of Change grips you from the first page and doesn't let go until the very last, leaving you gasping as you read the surprise ending. Appleyard proves that she has the talent to keep you guessing, and to teach some life lessons along the way.