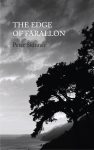 Publisher: Peter Skinner Books (2017)
Buy the book now at:

Amazon
Author's Website
Sam came to Jade Cove to kill someone. The question is who.
A mountain lion refuses to leave Big Sur's ferocious coast while a family on the brink of foreclosure clings to their land. But the real danger might not be what Lulu Willis or her uncle Angus expects. Enter Sam a man with a checkered past, a significant stint in the military, and, at present, marred with PTSD and alcoholism. Lulu suspects that Sam is there to kill her ailing uncle and she will do anything to stop him, even if it means killing Sam.  However, as the wind continues to shift along the coast, it becomes apparent that Lulu's volatility and past issues might bring everyone, including Sam, further to Farallon's edges.
As a playwright, Skinner (The Bells of Moses Henry, White Buffalo) uses words and dialogue in an undoubtedly poetic way. The dialogue, in particular, is intricately varied—snappy one minute and lyrical the next. It provides each character with their own unique thumbprint, with each fighting a different set of demons. Angus's dementia, Sam's grapple with humanity, and Lulu's struggle toward forgiveness all tie together in a tangled mosaic that makes any type of resolution seem improbable.
In addition, Skinner's skillful use of imagery and metaphor gives both his characters and setting a delicious complexity. This is especially true in the descriptions of local flora and fauna, including "wandering micro-plates," "tide pools ripe with purpose," "a Steller's Jay with deep blue feathers" and even a "phalanx of rusty mailboxes." Readers will completely immerse themselves in these textures, especially since Skinner reintroduces plot threads with just enough variance to keep readers guessing.
From a suspense standpoint, Skinner includes just enough detail to keep readers intrigued, while not revealing too many clues at once. This sprinkling of detail ratchets up the tension and makes it impossible for the reader to put the book down. And while the language and implications can become a bit esoteric at times, the twists and turns, shifting points of view, and varying textures will keep readers engaged.
With traces of Gothic flare, Peter Skinner's The Edge of Farallon is a brilliantly dark and satisfying read, exposing truths about family, life, and death. A story for those looking for complex character development, unique imagery, and a breathless plot.
Additional Note from Reviewer: Those interested in the dialogue might also think about reading the play version, available on Skinner's website.