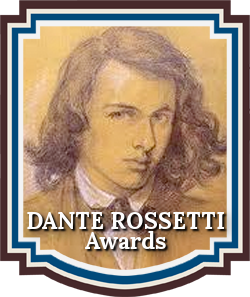 The Dante Rossetti Book Awards recognize emerging new talent and outstanding works of Young Adult Fiction. The Dante Rossetti Book Awards is a division of the Chanticleer Reviews International Book Awards.
The following titles and their authors have made it past the initial "Slush-Pile Rounds" and will compete in the next rounds to see which titles will  be Short Listed for the 2017  Dante Rossetti  Book Awards.
Good Luck to All! 
Susan Faw – Soul Sanctuary
Philip P. Carlisle – The Paradox of Jayne Le Faye
Brittany Evans – Unlocking Olympus
S.V. Mitchell – The Noble Noggin
JL Morin – Nature's Confession
Alex E. Carey – Fire's Love
Richard Mann – Wasted in Waldport
DJ Munro – Slave to Fortune
Jan Von Schleh – But Not Forever
Mario Loomis – Primordium
Elise K. Ackers – One for the Road
John Foley – One For The Team
Isaac Fozard – Coalheart
Tim Lee – High Heels and Horsepower
Jean Gill – Fortune Kookie
Laurel Anne Hill – The Engine Woman's Light
Judith Sanders – Star Finder: The First Book in the Diamond Island Saga
Deen Ferrell – Cryptic Spaces: Dark Edge Rising
Gregory Saur – Panterror!: The Epic Babysitting Adventures of Rachel Pugsley 
Anne Donaghy – Raven, Tell A Story
John A. Vikara – My Lonely Room
Kathy L. Greenberg – The Bully Solution
Edward Stanton – Wide as the Wind
Rebekah N. Bryan – Track Two on Repeat 
PJ Devlin – Becoming Jonika
Taylor Caley – Ice Cold – Part One: The Dark Zone
J. L. Skirvin – Snow Now Sizzling in Soleil 
Lynn Yvonne Moon – The Tower
Zoe Kalo – Chameleon
Lynette Cabrera – Just For Now
Samantha Crouch – Onyx
Julian North – Age of Order
Brittany Evans – Unlocking Olympus
Alisse Lee Goldenberg – The City of Arches
Robert Wright Jr – Ruby Red and the Wolf
Dara Lyons – Twinlove
Robert D. Calkins – Digger
Michelle Rowe – Emma Beware
These titles will compete to be SHORT LISTED in the next rounds.
We are accepting entries into the 2018 Dante Rossetti Book Awards for Young Adult Fiction.
To compete in the 2018 Dante Rossetti Book Awards or for more information, please click here.
Chanticleer Book Reviews & Media, L.L.C. retains the right to not declare "default winners." Winning works are decided upon merit only. Please visit our Contest Details page for more information about our writing contest guidelines.
CBR's rigorous writing competition standards are why literary agencies seek out our winning manuscripts and self-published novels. Our high standards are also why our reviews are trusted among booksellers and book distributors.
Please do not hesitate to contact Info@ChantiReviews.com about any questions, concerns, or suggestions about CBR writing competitions. Your input and suggestions are important to us.
Thank you for your interest in Chanticleer Book Reviews International Writing Competitions and Book Awards.