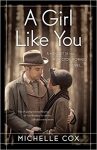 Publisher: She Writes Press (2016)
Buy the book now at:

Amazon

Author's Website
Welcome to Chicago, 1935 in the midst of the Great Depression where the beautiful and vivacious Henrietta Von Harmon, the oldest of eight children, fights to save her family and solve a crime. Her father has recently committed suicide, and her mother is bitter and fretful about making ends meet. Henrietta does all she can to help, working at a local tavern and then in a dance hall as a "taxi girl," dancing with any man who has the price of a ticket. She's earning a modest salary when the job ends abruptly because her boss, the formidable and acerbic Mama Leone, is murdered.
Opportunity knocks when the detective working the case, Inspector Howard, suggests that Henrietta apply for work as an usherette at a burlesque theater, The Marlowe. He needs someone on the inside to report back to him on shady activities. The pay is twice that of a taxi girl, but the job is far more dangerous. Some of the dancers and an usherette have gone missing—and all the employees are afraid of Neptune, the theater's owner.
Because one of the missing girls is a friend's sister, and because Henrietta wants to prove her worth to the detective, she agrees to the job. Detective Howard, a handsome but inscrutable man, is secretive about his personal life. In his mid-thirties, Henrietta fears he couldn't possibly be interested in her the way she is interested in him, unless, of course, she could dazzle him with her amateur detective skills.
It's a challenge given Henrietta's naivety. She sees things at The Marlowe that make her jaw drop. The dancers perform a seductive choreography in scanty costumes, and some of the usherettes are sexually intimate with one another, though none of these scenes are graphic in nature. She learns fast, however, and presents herself as more assured than she feels. There's a marvelous camaraderie amongst the usherettes, sweet women who look out for one another and are also trying to put two and two together about the missing girls. They caution Henrietta about "the green door," each believing there are goings-on behind it that point a link to the disappearances. Determined to crack the mystery and impress Inspector Howard, Henrietta is willing to put herself in the most dangerous of situations.
There is so much to admire about Cox's romantic mystery novel and even more to enjoy. Readers will feel that they're walking the streets of Chicago in the 1930s, the author conveys the neighborhoods, the people, the sights and sounds so convincingly. She's equally adept with her portrayal of a large family living in cramped conditions, Henrietta, a substitute mother to her youngest siblings because her own mother is often emotionally absent. Even if a mystery didn't enfold, this would be a thoroughly satisfying novel because of the historical details and the excellent characterization of the very sympathetic main character. The embedded mystery, however, takes this book to another level, a feat of successful merging of genres.
A Girl Like You will appeal to those who relish romances, mysteries, historical fiction, and especially to those for whom all three hit the jackpot! Great news for fans of Henrietta and Inspector Howard, two more titles in the series, A Ring of Truth and A Promise Given, already grace the booksellers' shelves.