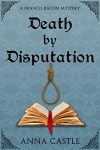 Genre(s):
Publisher: Anna Castle (2015)
Buy the book now at:

Amazon
Author's Website
Bartholomew Leeds interrupts the young men's studies at Corpus Christi College, Cambridge University in 1587 when he is found hanging from a roof beam. Is it suicide or murder? He sent warnings to His Lordship about the rising Puritan rebel underground. Were his communications intercepted somehow? Thomas Clarady, a spy in their midst assigned to investigate the Puritans, must now ponder and debate this Death by Disputation by author Anna Castle. Fascinating suspects abound at the college, and beyond its borders.
Philosopher, statesman, orator, and spymaster Francis Bacon is anxious to determine and jail the instigator, the suspected head of the Puritan rebels, as well as track any connection to "Barty" Leeds untimely demise. He's impatient for resolution and demands daily, written updates from Tom Clarady, his recruited spy. Posing as a student, Tom methodically follows clues while chased by three enamored women, dogged by well-meaning friends, diligently turning in his homework, and risking his own life more than once. Tom is enthusiastically determined to catch a killer, and to solve the mystery, as he plunges into this grand adventure. But this mystery has ominous layers, uncovering one leads to a more dangerous set of clues.
As Tom follows leads, he finds that the victim had interesting curricular and extra-curricular activities, any of which could make him a target. Tom takes his undercover duties to heart as he masks himself as a student who is swayed by Puritan ways and infiltrates the local group. He decides "in order to stop them he has to become one of them."  But will they discover his de facto assignment? He becomes such an ardent follower that the apparent changes in his personality and lifestyle concern his friends and even his spymaster. Tom treads carefully, but has he gotten in over his head? As he examines clues and analyzes suspects, the reader participates in working out theories and ultimately guessing a villain.
The delightful dimension to this mystery is the fascinating characters the author showcases. Along with the smart spy who sleuths along a tightrope between warring factions, the highlight is the fictionalized historical figure of Christopher Marlowe, a treasured rogue. Marlowe's loyalties are continuously in question, but his wry humor and dramatic actions hit their marks. The three romantic women also particularly surprise with their hidden skills, knowledge and vibrant personalities. References to the historical period setting naturally weave into the plot and dialog, and enhance rather than detract from the pacing of this thrilling spy tale.
For author Anna Castle, writing fiction combines her lifelong love of stories and learning. She chose the Elizabethan period for her Francis Bacon series, seeing it as one of the most colorful periods of all times and places. Retired from one of the world's great research libraries, the University of Texas at Austin, the author enjoys the extensive research she does for the series and the details of the historical period that she shares with her readers.
There's no debate – Anna Castle brings to life a page-turning, thrill of a mystery where "there are hazards other than jail or bodily harm" in Death by Disputation.
Death by Disputation is the 1st Place Winner in the 2015 Chanticleer International Book Awards in Chaucer, the Early Historical Fiction category.