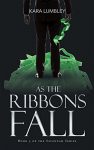 Publisher: Page Publishing, Inc. (2017)
Buy the book now at:

Amazon
Author's Website
Sam had been a curious, resourceful child growing up in a family torn apart by a contentious past. At a very young age, he'd discovered a fascination with killing. Now almost an adult, he's anxious to find his little sister who he's sure is living somewhere with their mother. The mother who had abandoned him. Although he was young when they were separated, Sam remembers his sister well, including the cute green ribbons she always wore in her hair. Now author Kara Lumbley shows readers what Sam really thinks in As the Ribbons Fall.
Until he can find the original object of his desire to kill, Sam tries to satisfy his murderous hunger by stalking and attacking substitutes. These girls are carefully chosen for their look and demeanor as he eerily watches them. The third book in the Savannah series, As the Ribbons Fall, draws to a conclusion the mystery of the Dark-Eyed One, exposing horrors of Sam's secret past. Is it the past that drives his murderous rage? Or as Sam says, was this desire to kill something that he was born with, an innate part of his being?
The fate of Senior Detective Jordan Kinsey and medical examiner Jena Greene of the Savannah Police Department is darkly in question when they are caught off guard and captured by Sam. Now Detectives Vance and Michael are leading the police team to find their colleagues, and to stop this serial killer once and for all.
The chilling portrait of this killer's thoughts as the author brings you along to one of his murders saturates the pages with terror and horror. The dimensions of desperation in both the killer and the victim are tangible, making this is terrific writing that takes the reader on a step by step journey to the coldest and darkest purgatory of human nature.
At the same time, the author brilliantly contrasts this evil with dynamic writing about the resourcefulness, intelligence, and tools used by the heroes fighting against the killer.
A passionate and talented author, Kara Lumbley excels at the art of suspense as she offers an unforgettable glimpse into the mind of a serial killer.
As the Ribbons Fall made the Shortlist for the 2017 CLUE Awards!