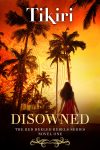 Publisher: Red Heeled Rebels Group (2017)
Buy the book now at:

Amazon
Author's Website
Spanning three continents and taking on crucial issues of child marriage and human trafficking, Disowned features a brave teen heroine struggling against international criminality with nothing but her wits and grit.
Asha, born in Tanzania, is still a child when her parents are tragically killed while on a family safari in Kenya. Within a short period of time she is transported to Goa, India, to live with relatives she has never met. Her grandmother is an angry, culture-bound crone, her aunt and cousin living, as Asha now must, under the old woman's seemingly heartless sway.
Not yet knowing the language or the social manners of her new homeland, Asha wears her best red shoes to school. She is beaten by the schoolmistress and taunted by classmates until she finds her saving grace—cooking. Beginning with lessons learned as a child and kitchen lore picked up from her new family, she starts her own business selling cupcakes, gaining grudging respect from classmates.
When her grandmother decides to sell her off to an old man who already has a wife and has no qualms about claiming his new child-bride by rape, Asha realizes she must escape — from grandmother, from Goa, and indeed from this horrible marriage.
The road is open to a new life in Canada, but there she will find she has been sold again, this time as the virtual slave of a demented old woman whose bizarre activities soon put Asha on the run again, this time with a new friend and fellow cook named Katy. The dangers are palpable, but the girls are determined to make a new life for themselves – anywhere and by any means.
Tikiri is an entrepreneurial, adventurous self-described "recovering nomad," and is the author of a series of Non-Fiction books in support of ambitious young women. The Rebel Journal Workbooks touch on subjects of finding your passion and making plans to reach your goal. One senses she has either personally observed or studiously researched the settings she so vividly describes – from the African veldt to the hovels of backstreet Goa.
Tikiri's central character, Asha, is naïve but definitely not lacking in good sense or in empathy for the suffering she sees around her. Knowing little about men, she nonetheless intuits that her prospective husband would be a brute and her life in Goa an endless grind. She knows she's made for better things and desires to help her ailing aunt and culturally trapped cousin if she can. Tikiri's writing is skillful and creative; her storyline never flags. As she leads from twist to turn in the well-constructed plot, her reader's attention will stay riveted on Asha's continually escalating challenges. Female readers (from older teens to adults) will find kinship with the girls in the story and look forward to the next installment of Asha's adventures.
A tale that sounds too real for comfort at times, Disowned, is the first book in the Red-Heeled Rebels series and presents a disturbing view of powerless, exploited women and girls in third-world countries through the hopeful eyes of a determined young woman trying to beat the odds.