Gold Foil Stickers for CBR GRAND PRIZE AWARD WINNERS
Grand Prize Gold Foil Stickers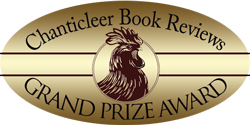 Above sticker is an example.
GRAND PRIZE AWARD WINNERS GOLD FOIL BOOK STICKERS
Gold Foil Adhesive Book Stickers -- exclusively available to Chanticleer Writing Competition Award Winners
Congratulations on winning a GRAND PRIZE Award in the Chanticleer Writing Competitions!
Now let the world know with our eye-catching gold foil book stickers -- We know a promotional sticker can make a difference in sales. A consumer is automatically drawn to the sticker, and there's a good chance he/she will pick up the book and at least look at the first few pages.
Description
Oval sticker 1.5" x .75"
150 stickers per order. Order more than one batch at a time to save on postage and handling costs!
Great for promoting blogs and contests, too!
Stickers are $48.00 U.S.D. per 150 stickers plus mandatory Bellingham, Wash. sales tax.
Includes shipping within the USA. International Rates will apply if delivery is outside of the US postal delivery system. You will be asked for this information upon checkout. Thank you!
We will verify your order with our winners' listing.
Please expect 4 to 6 weeks shipping time.
If you want to reorder First Place Award Winner stickers, please visit the First Place Awards Page.



Brand:
Chanticleer Book Reviews
Chanticleer Grand Prize Stickers
Overall Grand Prize - 220 stickers per order (0) CYGNUS Grand Prize - Science Fiction (0) Journey Grand Prize - Narrative Non-fiction (0) M&M Grand Prize - Mystery & Mayhem (0) Dante Rossetti Grand Prize - Young Adult (0) CHAUCER Grand Prize - Historical Fiction (0) Laramie Grand Prize - Western Fiction (0) Chatelaine Grand Prize - Women's Fiction / Romance (0) CLUE Grand Prize - Suspense / Thriller (0) Paranormal Grand Prize - Supernatural Fiction (0) Somerset Grand Prize - Literary / Contemporary (0) Little Peeps Grand Prize - Early Readers (0) Gertrude Warner Grand Prize - Middle Grade Readers (0) OZMA Grand Prize - Fantasy Fiction (0) Global Thrillers Grand Prize (0) Insight & Instruction Grand Prize (0) GOETHE Grand Prize (0) International Shipping (38)
Join the Chanticleer International Community of Authors and Readers!
Click here to join the Chanticleer Community! A collaborative community of authors and aspiring writers.