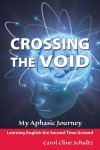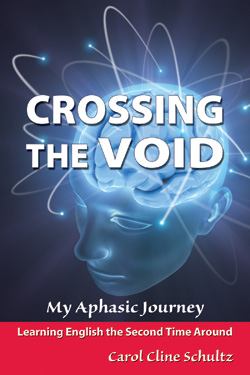 Publisher: CreateSpace (August 12, 2010)
Buy the book now at:

Amazon
Have you ever wondered what it is like to suddenly become wordless? Words move so effortlessly from our mouths that we take them for granted. Not so with Carol Schultz who now appreciates speech as few do.
Schultz went to sleep unsuspectingly and woke up unable to speak, read or write, and realizing that she couldn't understand other people. A stroke blasted a void across part of her brain and speechlessness into her life. Crossing the Void is the story of her journey across that wordless void to a much higher level of recovery than is generally thought possible.
Schultz writes to assist other stroke victims. But, since wordless victims cannot read this helpful and hopeful account, she offers her story for those around the victims — friends, families and professionals. Being careful to inform readers that all strokes are different, and not claiming to provide a panacea for all stroke victims, she makes real the possibility of substantial recovery.
Crossing the Void is a chronological, descriptive narrative that flows smoothly even though Schultz's life and recovery did not. Her skillful weaving of her thoughts, journal entries, friends' writings and medical reports carries the reader through fears, struggles and triumphs. It makes her methods for recovery and advice for advocates credible. Her extensive glossary, detailed appendices and list of "Insights for Advocates" make this a practical "How To" guide.
The reader travels the road back to communication through Schultz's eyes and feelings. From the initial shock and fears, the reality of not getting what she needs through others' lack of understanding, the skill and kindness of family and friends, she arrives at her determination to help others. The description of Schultz's journey is intense, at times humorous, and finally, triumphant and focused on helping others.
The marvel of this book is that it is written by one who, not so long ago, could not produce or understand words but, through dogged determination, has come full circle. I heartily recommend Crossing the Void. This inside story of a journey back from almost total loss of the ability to communicate will make you hold your breath as you read and then, finish rejoicing at both Schultz's triumph over wordlessness and the hope her experience and advice offer to others.