Listen to or download this article: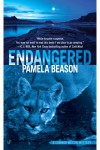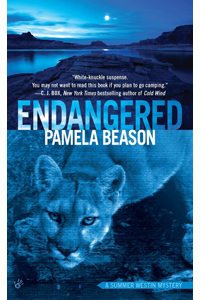 Publisher: Berkley; Original edition (December 6, 2011)
Endangered drops us into immediate engagement with its story: a child goes missing, wildlife need protection right now while hunters loom, people are hurried, focused on their own lives, and fallible with their good and not-good-at-all motivations and behaviors. You will find many levels and many stories here, all combined into one.
Issues, suspense, varied characters, and settings are skillfully interwoven in this heart-engaging drama and, like life, it is a complex tale. People with all their different values-based motivations are brought together.  Romance shows up, too, with a frisson that grows steadily to an unexpected conclusion.  Such is the draw of the characters' dramas that there are a few moments where you might be tempted to skip some of Beason's detailed setting descriptions to relieve your suspense, but those descriptions are so well done and the setting so integral to the story that you cannot.
Beason provides a wide range of characters: the good, the bad, the well-intentioned, those whose actions are admirable and those whose actions are reprehensible. This is not a simple tale and, several times, just when you think you know where it is going, it shifts again. Beason sweeps us into the untidy world of human inter-relatedness, ranging from those who are engaged in life to those who have withdrawn. Parallel and yet interwoven stories come together from the central character's early and serious mis-step and we walk with her as she struggles. Human variability and natural beauty provide the setting that makes it all credible while Beason remains true to Endangered as a mystery.
Endangered will have you alternately holding your breath, reading fast to find out what is going to happen, and admiring Beason's description of people, issues, and places that is so real and holds you so hard. I read it in one sitting and you will want to as well.
Endangered will stir your fears, engage your heart, and make you hold your breath to the end.