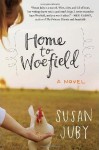 Publisher: Harper Collins, USA (2011)
Buy the book now at:

Amazon
You might, at first glance, be doubtful about a story about poultry but don't hesitate: This story is about way more than chickens. It will have you laughing out loud and wincing at the same time. Will the impetuous Prudence from Brooklyn, with her inheritance of worn-out Woefield Farm on Vancouver Island along with its looming foreclosure papers and its attached oddballs, ever succeed at fulfilling her dream of selling her own organic produce at the farmers' market?
Before long, you will soon find yourself rooting for Juby's unpredictable characters instead of shaking your head in disbelief at their madcap antics and the ensuing mayhem. And, then, along come the chickens—who would have thought chickens could be the glue for the magic of it all?
Juby immerses us in the endearingly hapless mayhem of her characters' lives with their doubtful plans and out-right weaknesses: a banjo picking Earl with his crankiness and withdrawal from life, Seth with his very convoluted coming-of-age issues, a clip-board-carrying eleven-year-old girl who shows up unexpectedly on Prudence's door step and meets challenges far beyond her years head-on, and then there is poor ol' Bertie the depressed sheep. All of these misfits commensurate with the landscape of the barren and tattered Woefield Farm, and soon we know that they and the farm are all dependent on each other if they are to flourish.
And, of course, there is romance! We follow Prudence again as she roars into romance in the same energetic and unpredictable ways that she faces all of her challenges with the unsuspecting, seemingly improbable, Eustace. Be ready for more laughing out loud while you are groaning  at the predicaments that Prudence keeps getting herself and everyone around her into.
Juby's use of the first person narrative style keeps the story immediate, enriching each character in our "mind's eye" as each one's perspective of the same events overlap. Her description of their thoughts and opinions is so lively and her characters such a riotous mix of people and animals that it makes you marvel you are not hearing from the chickens and the sheep, too.
You will find yourself laughing at Juby's wry wit and practical outlook and wishing you could look at your own life the way these characters look at each other's lives. Her fresh humor provides lightness to their heavier issues and you will find yourself re-framing your first reactions to them as the story unfolds.
Home to Woefield will make you think again about reaching toward the seemingly unreachable in your own life, about taking that leap of faith, and believing maybe, just maybe, some chickens will show up to make it all happen.