Listen to or download this article: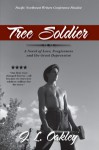 Publisher: Self-published, U.S.A. (2010)
Buy the book now at:

Bookchain

Amazon
Author's Website
In this action-packed, emotionally charged historical novel titled Tree Soldier, J.L. Oakley takes us back to the era of the Great Depression. With millions of Americans unemployed, President Franklin D. Roosevelt devised a New Deal work relief program called the Civilian Conservation Corps.
Some three million unmarried young men went to work in CCC camps across America—building roads and bridges, establishing flood control, and replanting depleted forests. Of the men's $30 monthly paychecks, $25 was sent to help their desperately poor families.
Oakley skillfully weaves this history into a suspense-building story of love, forgiveness, and redemption. The story commences with the arrival in 1935 of a new squad of "Tree Soldiers" at Camp Kulshan, a CCC forestry camp in the rugged North Cascades, near the little village of Frazier, Washington.
While most of the new recruits are sort of rough teenagers from urban New Jersey and New York, our protagonist is a college student who left school and his farm home in eastern Pennsylvania to join up.  The strong and handsome John Parker Hardesty has more than a paycheck on his mind, however. The pensive young man, who sometimes seeks solitude in the forest, is trying to escape his nightmare memories of two tragic events in his life. His fellow recruits nonetheless respect the polite, clean-cut, Park who can also hold his own in the physically competitive proving ground environment of camp life. Many of the new recruits seek out his company, especially a wiry, 18-year-old Italian kid named Mario Spinelli, who takes the upper bunk above Park. Before long Park becomes the squad's "straw boss."
Camp Kulshan is no fun summer camp. The physical training is tough, camp chores are boring, and not all the Tree Soldiers are easy to get along with. The boys of "Joisey Squad" (from the Jersey accents of several) are dubbed "foreigners" and suffer some rough hazing. However, camp life is not all work and no play. The people of Frazier appreciate the camp's contribution to the community and in friendship arrange baseball games and picnics. The Tree Soldiers reciprocate with a dance in the mess hall. Boys meet girls, sparking romance, but also jealousy. Park is drawn to the dance floor by a pretty, auburn-haired young woman, Kate Alford. He breaks in on an arrogant, self-serving camp officer, David Callister, who has his eyes possessively on Kate. As Park takes Kate in his arms, Callister stalks off the floor.
As the story's pace increases, so does the emotion it evokes. Suspense builds as reputations are undermined, treachery and deceit threaten lives on the verge of redemption, while storms brew and forest fires erupt. Oakley's characters come to life as their respective roles are defined with the drama of trials and tests of wills, and determination builds. Love blossoms, but not without thorns. Friendships are solidified, and trust and support are developed in the face of duplicity and enmity. In the final pages of this compelling book, Oakley introduces one more human trait, one she saw fit to include in its title—forgiveness.
J.L. Oakley's Tree Soldier will draw you in and keep you turning the pages.  Tree Soldier won Chanticleer Book Reviews Blue Ribbon Award of Grand Prize in our Published Novels Contest 2012 earning it a coveted CBR star.