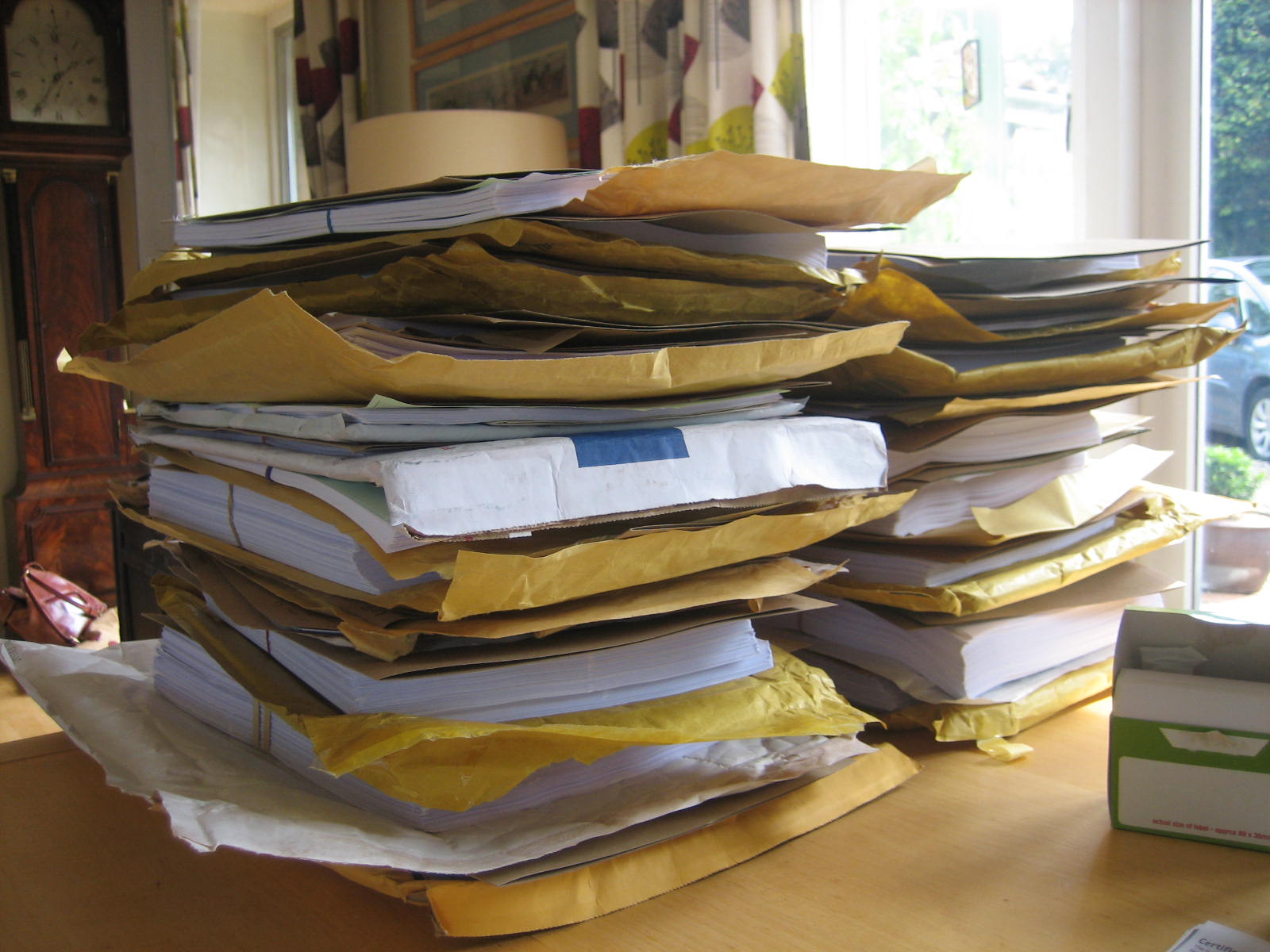 "You just can't write a good story. I reject good stories all the time. You must write a good story well."— Cory Skerry, Slush Pile Reader for Tor.com and Shimmer Magazine♦

Imagine hundreds of manuscripts to read; day in and day out. It is your job—your job to select  manuscripts worthy of your editors' time and publisher's consideration.  And finding a great manuscript is how you earn your pay.
However, every time you recommend a manuscript to your editor, you are either destroying your reputation as a Reader or building it as a Discoverer of Talent.  Your career's future in the publishing biz depends on your decision making skills. The clock is ticking. Meanwhile, your slush pile is getting deeper by the hour.
If you ever have the opportunity to hear Cory Skerry present his talk "Slush Pile Readers Secrets Revealed," do it! He is an engaging speaker who tackles the serious issues that an author's work will encounter when dealing with the gatekeepers of the publishing industry. But, he does it with aplomb and mirth. I cannot begin to do justice for his Do's and Don'ts Advice or to his entertaining presentation. Nevertheless, the advice he offers to writers has such merit that I would be amiss if I didn't try to pass on some of his tips and secrets.
Below are just a few. Skerry reminds us that these tips are for commercial fiction—not literary fiction.
Top reasons for Rejection of Manuscripts are:
Not keeping your promises to readers by the end of the story. Follow Through and Deliver. If there is a smoking gun on the mantle, there must be a reason for it.
It is boring. Authors have a tendency to tell the reader too much information and explain too much. This takes away from discovery and suspense, which makes the story boring.
"Workshop-itis" is what happens when too many authors critique a work. The story loses power, personality and color—too many accommodations and changes will turn your work into a murky mud-brown piece

[ed.].

Stilted dialog.  Read your dialog aloud. Have someone else read your dialog and listen to it. What do your ears tell you?
Beware of the "First Sentence Myth of Slush Pile Readers." Don't over polish the first paragraph—it will only make any weak writing appear even less than it is. Write your story consistently throughout.
Just say NO to Bodily Functions. Do not start your book with your protagonist performing bodily functions. No shaving, no brushing teeth, no vomiting, no toilet "duties,"  no toenail clipping, — slush pile readers have read it all way too many times. It is not interesting nor is it amusing to them.
Where Am I? Do not start your book with your character having amnesia, or waking up and not knowing where they are, or feeling startled from a dream, etc.  All that tells the Slush Reader is that the author doesn't know where he is in the story.
Slush Readers Pet Peeve:  The protagonist is a writer. Boring. Your story will have to be outstanding to overcome this pet peeve of First Readers.
Author Therapy. Slush Readers can tell immediately that the story is really a memoir or a means of the author getting rid of personal demons. Slush pile readers are not therapists. Get that stuff out of your system before you submit your work as commercial fiction. In other words, don't be so transparent.

Reasons that Manuscripts are Rejected Other than Writing Craft.

The publisher has already purchased a manuscript similar to yours.
Work doesn't match readership exactly.
Personal reasons that the work doesn't resonant with the editorial staff.
The work doesn't line up with the publisher's scope/market.
Author therapy –again.
Un-examined assumptions about cultural differences.

He reminds us that we cannot control who reads our manuscripts.  So, we must keep submitting even if our work is rejected. And he advises writers to resubmit to new works to publishers who have rejected past works.

And finally, Cory Skerry's Top Secret for getting out of the slush pile is:  "Keep getting in it!" 

The next article will be about the nitty gritty of writing Cover Letters and Queries as presented by Cory Skerry to Whatcom Writers and Publishers professional organization.