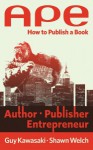 Publisher: Nononina Press; 1.0 edition (December 10, 2012)
Buy the book now at:

Amazon
APE is the how-to compendium for today's self-publishers.
Authors will find APE an indispensable resource. Guy Kawasaki passes along his publishing experience in his "no-shitake," but affable manner. Imagine having an extremely successful uncle in the publishing biz who also has a tech-wizard pal (co-author Shawn Welch) of digital publishing magic. Fortunately for us, this dynamic duo decided to share their publishing know-how.
APE's premise is that publishing is a parallel process "that requires simultaneous progress along multiple fronts." Hence, self-publishers are challenged with how to: market, brand, design, promote, publish, distribute, and finance a book–all at the same time. Oh, and don't forget the time required for actually writing the book. Indisputably, each self-publisher is an: Author, Publisher and Entrepreneur.
Reading APE is like taking a condensed survey course in publishing; it addresses the range of topics that authors must know about self-publishing. APE covers aspects from the existential question of "Should I write a book?" to advice on how to create foreign language versions of your book, to guerrilla marketing techniques, and ideas for financing.
Traditional publishers have long prided themselves on their art form and on their discernment abilities. Readers have come to expect and appreciate their expertise. APE's tactics and techniques will enable self-published authors to deliver to readers books that will meet these time-honored and well-justified expectations.
Kawasaki and Welch challenge self-publishers to take up the mantle of "artisanal publishing"—where authors who love their craft must dedicate the time and resources to "control every aspect of the process from beginning to end." If authors engage this philosophy, their books should have a much improved chance on separating themselves apart from the chaff of the expected two million new titles that are expected to hit the English language market in 2013.
APE admonishes that self-publishing isn't easy or a way to get rich quick. But if you want a realistic, tactical, and, relatively, slim (300-pages) self-publishing guide that is profuse with handy resources and links (which actually work—this reviewer checked them) on how to do it right, then APE is the go-to guide for you.
An additional remark from the reviewer:
APE should be on every author's desk or e-reader right along with The Chicago Manual of Style and The Copy-editor's Handbook. As with the latter guides, it is one that you will refer to often as you find your way in today's era of the Wild, Wild West of Publishing. It also addresses the particular formatting hurdles that non-fiction writers must clear when self-publishing.