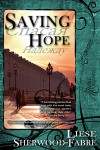 Publisher: Musa Publishing (2012)
Buy the book now at:

Amazon
Author's Website
It is a frigid night in Siberia in the year 2000. In their small apartment, Alexandra Pavlova is jerked awake by the sound of her small daughter's struggled breathing. The mother's tender caress of her forehead reveals a raging fever. Quickly Alexandra wakes her husband Yuri, and the parents bundle up Nadezhda for the drive from their city, bearing the Soviet-style name of Stop-100, to the regional hospital, 100 kilometers away.
With expensive medicines that her parents must buy, Nadezhda (Hope, in Russian) recovers from this bout, but the doctor tells them that the girl desperately needs surgery in one of Moscow's major hospitals. The loving mother is a lioness in her fierce determination to do whatever it takes to help her child, born with a heart condition that leaves her vulnerable to life-threatening infections. She guiltily fears that her earlier employment as a microbiologist in a Soviet biological warfare institute may have led to Nadezhda's condition. Now she vows to save her life.
Vladimir, a friend of both Yuri and Alexandra since childhood, willingly provides money for the trip to Moscow, and Yuri begins selling car parts to earn extra money. Alexandra gratefully accepts the secretarial job offered by Vladimir, who eventually confesses his lifelong love for her and his pain and even jealousy when she married Yuri.
It is hard to see how this story is to evolve into the exciting spy novel that Saving Hope has promised to be, but author Sherwood-Fabre isn't about to disappoint her readers. She comes through with flying colors, creating her cliffhanging thriller not only with literary skill and authenticity regarding life, crime, and medicine in Russia (Sherwood-Fabre lived and worked there), but also with great emotion and story-telling ability.
We learn that the hard-working father and the generous friend have hidden their true characters—not only from us, but also from Alexandra, and even from each other. Even Alexandra, an unemployed microbiologist, is drawn into the nefarious Russian underworld that entices her with offers of a high salary and good medical care for Nadezhda.
These activities do not go unnoticed by the Russian Federation's intelligence arm, the FSB (successor to the former Soviet KGB). Agent Sergei Borisov tries to recruit Alexandra to help in his investigation by telling her how she has been betrayed. She is devastated as well as desperate, feeling there is no one she can trust. She is soon to discover that her fears—not just for herself and Nadezhda, but for the safety of the world—are well grounded. The deadly race is on.
This reviewer's heart was pounding as the final pages of this book flew under her fingers at 2:30 in the morning. Surely the evil that is encompassing her life and threatening the world must not reach fruition unchallenged, but what or who is going to stop it? Saving Hope is a great read, and not just to find out how it ends. There are sub-stories and sub-sub stories, built around characters I didn't even mention in this review, that add depth and texture to this spy novel.
Saving Hope by Liese Sherwood-Fabre is the Chanticleer Book Reviews 1st Place Blue Ribbon Award winner for the Suspense/Thriller category, Published Novels division.