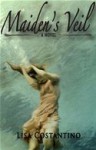 Publisher: Lisa Costantino; 1 edition (August 10, 2012)
Buy the book now at:

Amazon
Author's Website
Lisa Costantino's Maiden's Veil is an entrancing tapestry of history, love, and sacrifice that spans the centuries from 1720 to modern times. The story exemplifies the psychological power that ancient rites have held and do hold over us, and the effects of these rites as they ripple through our consciousness or, more dangerously, our collective subconsciousness as they cross the barriers of time.
Costantino deftly intertwines the stories of two star-crossed love affairs, building to a climax wherein the fates of all the four lovers are bound up together—making a seemingly chance encounter an event that will forever change their lives.
A spirited and headstrong weaver's daughter, Clarinda Asher is no fit match for Benjamin Keane, son of a prosperous merchant, even when they are paired as Maiden and King of their village's May Day festival. However, it is when they are brought together to the circle of ancient standing stones to partake in a sacred fertility ritual that their lives truly begin to unravel.
Three centuries later, Owen Calder, curator of the modern-day textile museum in England's West Country, meets Jessamine Barlow, a traveling textile buyer from the U.S. Owen offers to take Jess to see the standing stones on the outskirts of the village. Unbeknownst to them, the circle's power continues to resonate. Jess abruptly quits her corporate job to return to her first loves: weaving, and a pagan spirituality that echoes Clarinda's faith. Owen longs to experience the more spiritual existence of his youth, one more in tune with nature, after having traded a life of poetry for "curatorial reports and funding proposals."
Costantino titled the story after the indigo veil that the virgin female must don during the pagan fertility ritual. But it is the natural beauty of the rural village that provides the crucial backdrop for both stories: Maiden's Hill, where Clarinda is banished after her sacred tryst with Benjamin meets with disastrous results for the whole community; the River Guen that plays a fateful role in the tragedy; and the spring-fed pools where King and Maiden purify themselves—and where the two couples repeatedly return for strength to face their destinies, and bring life out of death, love out of sorrow.
Maiden's Veil was awarded 1st Place in the Women's Fiction category, INDIE Awards, a division on the Chanticleer Blue Ribbon Awards 2013, for Costantino's mesmerizing lyrical prose, her well-developed characters, and her compelling storytelling of a timeless and ancient theme.