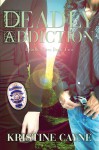 Publisher: Kristine Cayne (2012)
Buy the book now at:

Amazon
Author's Website
Deadly Addiction  captures the devastating effects of poverty and substance abuse on a First Nations community while portraying the love affair of one tribal member determined to help his people.
Tribal cop Rémi Whitedeer, last seen as a supporting character in Deadly Obsession (Book 1), takes center stage in this romantic suspense tale set on the fictional Blackriver First Nation Reserve near Montréal.
Since the tribal police force's disbandment for corruption, Rémi has been supporting himself as a counselor and first responder, but he sees little reward, particularly in the constant battle against drug and alcohol abuse. An even bigger threat to the Iroquois community is the conflict between the tribe's traditionalists—the militant Guardians and the moderate Defenders—which quickly blows up when the provincial police department hires Sergeant Alyssa Morgan to head a task force to determine the best method of policing the reserve.
Her appealing blond looks belying a soul hardened by her last undercover assignment, Alyssa attracts both suspicion and lust from various male tribal members. But no one more so than Rémi, whose inability to keep his distance from the beautiful outsider earns him derision from detractors already scornful of his mixed racial heritage. When the two are partnered on the task force, their mutual attraction mirrors a shared hatred for drug dealers.
However, before the inevitable showdown between the factions comes to pass, Rémi and Alyssa each must come to terms with life changing choices.
As Rémi and Alyssa delve deeper into the vortex of drugs and corruption—and into their inflamed passions, rendered hot and sexy—the reader immerses deeper into life on the rez and the conflict between maintaining tradition and surviving in the modern world.
As brutally violent as it is flirtatious, this novel offers readers a realistic glimpse of contemporary life on a First Nations reserve. The story is populated by wonderfully realized characters.
Deadly Addiction was awarded first place in the Romantic Suspense category in Chanticleer Book Reviews' 2012 INDIE Awards. It is the second installment in Cayne's steamy and suspenseful Deadly Vices series.