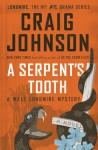 Publisher: Viking Adult, June 2013
Buy the book now at:

Amazon
Author's Website
Craig Johnson's well-honed and crafted Walt Longmire mysteries are engaging page-turners that are as fresh and raw as they are multi-layered and nuanced.  Furthermore, Johnson doesn't back down from the socio-economical issues taking place in today's West and bringing them to a roaring boil.
Johnson's mysteries keep us turning the pages, but as we do, he gives us glimpses into the contemporary west,  the people who live with the imposing presence of the looming Rocky Mountains, and the undercurrents of modern technology, and social ills. Dichotomies abound with cowboys on horseback with I-phones, raging snowstorms and the futility of technology in their midst, western machismo and the women with balls enough to stand up to it.
As you read Johnson's works, he will divulge his characters' souls to you. We learn, bit by bit, about their weaknesses, their wounds, and their paths that led them to inhabit this remote corner of America. We also share in their triumphs and victories — even if it is small as an ice cold Ranier beer after a day of driving dusty roads.
The "Walt Longmire Mysteries" series explores our world and our psyches with their imagery, symbolism, mythological archetypes and spiritualism. He does this without stereo-typing or rehashing old cliches, but with spot-on dialogue, engaging characters, and complex suspenseful plot-building. And that is what makes the reading of the Walt Longmire mystery series so very addictive.
We root for Walt Longmire because he fights the good fights that must be fought–no matter what the costs are to him.  In "A Serpent's Tooth," Walt must deal with a splinter group of a renegade polygamy group of Latter Day Saints who have built quite the arsenal of weapons and an old vendetta that crosses time-lines and cartels. How Craig Johnson interlaces water rights in the West, Shakespeare, physics, Lost boys, flying saucers, Lamanites, corsages, L.D.S., slow car chases, "My Friend, Flicka," and the C.I.A. into a fast-paced, suspenseful novel is truly a testimonial to his storytelling ability.
"A Serpent's Tooth" by Craig Johnson earns five stars from Chanticleer Book Reviews. Find yourself mesmerized by a great storyteller! Be forewarned: You will not be able to stop at just one Walt Longmire mystery.
[Reviewer's note: Not since reading Jim Harrison's works have I encountered writings that are so satisfying to read.]