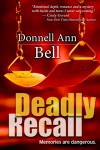 Publisher: Bell Bridge Books (2013)
Buy the book now at:

Amazon
Author's Website
Donnell Ann Bell deftly intertwines a fast-paced thriller with an emotionally-charged love story. Deadly Recall will entice devotees of both genres, with added appeal for those who appreciate the southwestern setting of Albuquerque, New Mexico.
The mystery begins when nine-year-old Eden Moran learns that her beloved mentor, Sister Beatrice, is leaving the school that very day. When released for recess, the devastated Eden dashes across the playground to St. Patrick's Church with hope of finding the nun even though it was against the rules to leave the school yard. She knew it was a sin to disobey but she had to take the chance. Unseen by Father Munroe and Sister Beatrice, Eden witnesses an argument between them that turns physical. The sister falls and the priest is unable to wake her. The shocked Eden sneaks back out and races back to the school's playground.  Here, panicked adults await her.  When they ask her where she's been, the little girl tells them she couldn't recall.
Seventeen years later: Eden—who had acted so outrageously all those years ago that she was expelled from school and sent by her parents to live with her aunt—has returned to Albuquerque.  Now 26, she is an attractive and successful public defender.  Unfortunately, relations with her parents are still strained.
It isn't long before Eden meets Albuquerque Police Detective Kevin Dancer.  Attorney and cop can't help but be attracted to each other, but the detective's job is to put the bad guys in jail, while the public defender seeks to help the accused remain free. To add further complications, like Eden's, Kevin's family relations are troubled. Thus, both are wary of close relationships.
The skeletal remains of one Celeste Lescano, aka Sister Beatrice, have been uncovered at a construction site inciting Detective Dancer to solve this cold case. When he investigates, witnesses recall Eden's close childhood relationship with the nun. However, when Kevin questions Eden, she denies having known Sister Beatrice.
Eden invites Kevin to attend her sister's wedding at St. Patrick's in hopes he'll meet people who actually knew the woman. Father Munroe, now a bishop, officiates and attends the reception. Noting the bishop's attraction to women, Detective Dancer pencils him in as a possible suspect.
Murders and close calls occur bringing more twists and turns to the story. It seems that Sister Beatrice's killer wants to make sure that Eden doesn't have the chance to recall what she witnessed that fateful day—by doing whatever it takes to keep her quiet forever. The suspect list lengthens, with St. Patrick Church as the focal point, making Kevin and Eden at odds with each other even as their irrepressible attraction heats up and Eden's life becomes increasingly in danger.
Deadly Recall is a  page-turning thriller that comes to a breathless conclusion. I thoroughly enjoyed reading this emotion-packed action story by Donnell Ann Bell so much that her November release of Betrayed is on my personal reading list. In the meantime, I have ordered Bell's earlier thriller, The Past Came Hunting. I look forward to reading more suspense mystery novels from this award winning author.