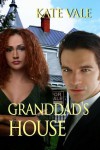 Publisher: North Cascades Press (2013)
Buy the book now at:

Amazon
Author's Website
Granddad's House is a contemporary romance that will captivate you and have you wanting more.
While Granddad's House stands on its own, you will find Vale's characters so engaging that you will want to know more about them. Good thing that author Kate Vale has written (so far) four books in the On Geneva Shores series, which take place in the small Pacific Northwest town of Evergreen, Wash.
The story begins as we meet attractive redheaded Olivia Brown, of Brown Family Realty, conducting an open house. The handsome Southern architect named Beauregard Elias James is touring it on behalf of a client who wants to turn it into a B&B.  Of course, Olivia knows not to reveal to him that the historic house is her family home, but, she does!  Why, she asks herself, did she break one of her own rules with this incorrigible man with awesome green eyes?  The family real estate business is central to the story line and that is where the author Vale's real life expertise as a realtor along with the many awkward situations that they find themselves is seamlessly integrated into the adept writing.
Granddad's House  is an engaging read from page one that will make you laugh and cry as author Kate Vale portrays life's struggles and conundrums with poignancy and touching honesty that rings true.
Vale's writing captures germane issues that women face in today's world:  being torn about decisions made between life for oneself and the caring for a beloved elder who has dementia, the strife of feeling the need to be in at least three places at one time, the far reaching effects of the Middle East Conflict, along with the emotional bonds of family and friends, and the myriad of tugs that women must face as they navigate modern life's complexities.
If you want to get to know characters who embrace contemporary challenges with integrity and passion, then look no further than Kate Vale's novels for a book about love and loss, friendship and family ties, and finding happiness.  Granddad's House is an exemplary example of Vale's encouraging and fortifying stories. While her writing is inspiriting, it does cross over to sensuousness in order for readers to identify with the issues we deal with in confronting our own sexuality in our daily lives.
Kate Vale's relevant women's fiction story lines, believable characters and spot-on romantic flair assure that we will be hearing great things about this talented up-and-coming contemporary women's fiction romance author.
On Geneva Shores series by Kate Vale
Family Bonds starts the Geneva Shores series with Book 1. How can a couple overcome their families' dark secrets and disparate backgrounds?
Granddad's House is Book 2 of Geneva Shores.  Love transcends and gives hope.
Just Friends, Book 3 we follow the blossoming love of Olivia's best friend, Sally, and Beau's brother, Paul, a returning wounded soldier from Afghanistan.
Choices, Book 4 — look for our review! Can Sam, a long-time bachelor, commit himself to marriage and kids –especially when the kids propose the idea?