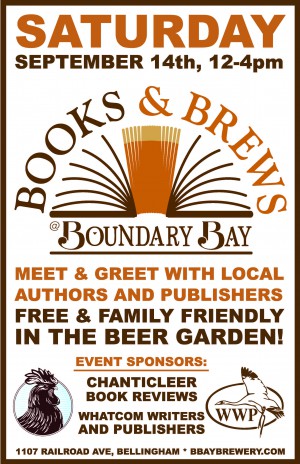 Join Chanticleer
at the
first annual
Books & Brews Festival
on Saturday, Sept. 14th
noon to four o'clock
Boundary Bay Bre
wery's
Beer Garden!
FREE and FAMILY FRIENDLY ♦ BEERS, BRATS, & BOOKS ♣ AUTHORS ♥ DOOR PRIZES ♦ 
Rain or Shine – the Beer Garden is Covered
The event is directly across the street from Bellingham's well attended Farmers' Market
Drawings every 30 minutes for PRIZES
Meet other authors & writers
Chanticleer authors are welcome to sell and promote their books at CBR's tables.
Boundary Bay Brewery is one of the largest brewpubs in North America and has won numerous awards for its beers. www.BBayBrewery.com   Boundary Bay Brewery is located at 1107 Railroad Ave, Bellingham, WA 98225
If you are interested in  participating in the BOOKS & BREWS Festival, please email Kiffer Brown at KBrown@ChantiReviews.com to reserve your space. Space is limited and reservations are required.
Upcoming Events
September 14:  BOOKS & BREWS at Boundary Bay Brewery;  Bellingham, Wash.
Sept, 19 – 22: BoucherCon2013 Mystery Convention; Alabany, N.Y.
Oct. 6 – 8: Pacific Northwest Booksellers Association Trade Show; Portland, Oregon
Oct. 17 – 20: Emerald City Writers Conference; Bellevue, Wash.
Oct. 24 – 27: Surrey International Writers Conference; Surrey, British Columbia
Nov. 2 & 3: NorthWest Book Fest; Kirkland, Wash.
March 20 – 23, 2014: Left Coast Crime Scene; Monterey, Calif.
Be sure to check Chanticleer's calendar often to keep up with on-going promotional opportunities.