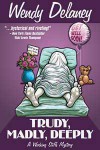 Publisher: Corvallis Press (2013)
Buy the book now at:

Amazon
Author's Website
Witty, fresh, and full of surprises, Trudy, Madly, Deeply, delivers. Wendy Delaney's debut novel in her Working Stiffs mystery series is a fun and immensely entertaining read with its odd assortment of lovable characters, clever writing, and twists and turns that will keep you turning the pages.
When Charmaine Digby is cut loose as "excess baggage" from her ex-husband whom she met at culinary school in California, she heads back home to the small town of Port Merritt, a retirement mecca on the waterfront of Washington state.  She finds herself living with her Gram, slinging cheeseburgers at her great-aunt Alice's diner, and living across the street from a guy who used to pull her pigtails when they were in grade school together.
 Charmaine Digby is also living up to her school moniker of "Chow Mein;" she has been eating her way through her divorce. She is out of work, out of money, and out of shape.
This wonderfully humorous cozy mystery will have you cracking up at the trouble that "Char" manages to get into when she finally lands a "real job" as a deputy coroner to the Chimacam  County Prosecutor's office—if she can make it past Day One of her 30-day-trial period.
She was hired not for her crime fighting abilities (unless that includes her handiness with a rolling pin), but for her special ability – Charmaine is a human lie detector. Apparently only .25 percent of the population has this uncanny ability—these few people are known as "truth wizards." Really.  And Charmaine, bless her heart, is one, which doesn't help to make her life any easier. And it is about to get tougher.
A handsome doctor at the local hospital reports a suspicious death of a patient, Trudy Bergenson, who was a  dear friend of Char's Aunt Alice. Trudy was supposed to be released to come home on Charmaine's first day of work–not end up at the county morgue.
With Aunt Alice's diner at the eye of the gossip hurricane of Port Merritt, it isn't long until Char is in hot pursuit of clues to discover if Trudy's unexpected demise is the most recent in a chain of suspicious deaths at the county hospital.  It seems that childhood neighbor, now all grown-up and sexy, Detective Steve Sixkiller, is not appreciative of Charmaine 'playing detective.' Sparks fly—in more ways than one.
If you enjoyed reading Janet Evanovich's Stephanie Plum series, you will love Delaney's Trudy, Madly, Deeply. I had no idea whodunit until the very end (and I have read hundreds of mysteries). Well done, Ms. Delaney, well done!
I cannot wait to read the next novel in Delaney's Working Stiffs mystery series so I can learn more about the goings-on of Chimacam County, its cast of lovable (if not, peculiar) characters, and any new mysterious treats that Ms. Delaney decides to dish out to her awaiting fans, yours truly included.
Trudy, Madly, Deeply by Wendy Delaney is a Finalist in the M&M Awards 2013 for Mystery & Mayhem Novels, a division of Chanticleer Book Reviews writing competitions.