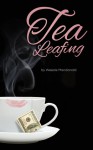 Publisher: Weezie Macdonald (2013)
Buy the book now at:

Amazon
Author's Website
In her debut novel, Tea Leafing, Weezie Macdonald demonstrates extraordinary skill in deftly weaving the multifaceted personalities and lives of a quartet of friends—exotic dancers (or strippers, as you will) at a high-end gentlemen's club in Atlanta. It is an intriguing thriller of local graft, mafia-style murder, international drug rings, money laundering, and revenge.
Juxtaposed with the shadier side of  Tea Leafing is the story of these women's' loyalty to each other, clever sleuthing, and determination not to let their co-worker and friend's unjust and gruesome death go un-avenged.
Macdonald masterfully develops the rich and distinctly different characters of Sam, Grace, Mary Jane, and Birdie both on and off stage at the Pink Pussycat, yet enables them to mesh within the close bonds of their friendship, especially when they resolve to face the dangers of joining forces to solve Lena's murder. Tears of loss and compassion flow as they mourn their friend's death, though they purposefully maintain a discreet distance from Lena's high-society Savannah family and friends—all except her younger sister Amanda, who provides a key clue.
Chunks of humor lighten the story—in the shenanigans and uninhibited dialog of the feisty-tongued, Irish-born, Manchester-raised Birdie, and vignettes of the club manager's outlandishly dressed and coiffed mother, Pietra Maria Speranza DiFrancesco, who sails through the crowded club like a battleship, bellowing for her son Gio. Macdonald's colorful descriptions enable us to smell the smoky air of the club, the whiskey, the perfume, even the sweat. We feel ourselves to be a part of the scene, and of the lives of those within it. Her multifaceted characterizations make us aware that people are not only, or perhaps not at all, what or who they appear to be.
The story accelerates at a heart-stopping pace, as the clues build and the quartet construct their plan of action. Additional colorfully drawn characters join the cast, and the scene explodes to cover the globe—the Caribbean, Russia, Switzerland, Japan, Singapore. The suspense builds as money launderers, the Russian mob, and the underworld of Atlanta come into play. The urge to turn the pages faster and faster fights the need to absorb the intricate detail of the story. Heed that warning, readers, or you'll find yourselves back in Atlanta not quite sure what happened.
Tea Leafing by Weezie Macdonald is an entertaining and captivating mystery that will take you on a great ride on the wild side.
[Editorial note: If you, like this reviewer, feel as though you've made some very good friends only to have to tell them goodbye, Weezie Macdonald is not going to let that happen. This quartet will entertain us again in the next book of Macdonald's series. And, yes, you will discover what "tea leafing" is all about.]