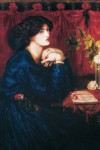 It is our pleasure to post the Official List of The Chatelaine Awards Finalists 2013.
Finalists will compete for 1st Place Category positions. First Place Category winners will compete for Overall Best of Chatelaine for Romantic Fiction 2013.
The Chatelaine Awards recognize emerging new talent and outstanding works in the genre of Romantic Fiction. It is a division of Chanticleer Blue Ribbon Awards Writing Competitions.
The Updated list of  Finalists Titles & Authors that made the Chatelaine Awards 2013 Shortlist are:
The Lily and the Lion  by Catherine T. Wilson & Catherine A. Wilson
Swamp Secret by Eleanor Tatum
The Hourglass by Sharon Struth
Wait for Me by  Janet K. Shawgo
Pulse and Prejudice by Colette Saucier
Crimson Flames   by Ashley Robertson
Love on the Back Burner: A Tasty Romantic Comedy  by Barbara J. Oliverio
Chasing Charlie by C. M. Newman
Shining Star by Anna Lopez
Give Her the Stars by Marilyn Lathrop
A  Path through the Garden  by Nancy LaPonzina
 Show No Weakness by Joyce Holmes
Whatever He Wants  by  Bridgett Henson
Brimstone and Water by Sharon House
I, Walter  by Mike Hartner
To Dare the Duke of Dangerfield   by Bronwen Evans
Now this is something to CROW about!
Congratulations to the Chatelaine Awards Finalists!
Good luck to all in the next two rounds!  1st Place Category winners will be announced before Jan. 15, 2014.