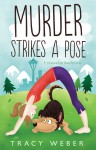 Publisher: Midnight Ink (2014)
Buy the book now at:

Amazon
Author's Website
In this award winning mystery, yoga instructor Kate Davidson tries her best to live the Zen life, but she often finds herself being challenged with her fluffy hips, her struggling yoga business, and missing her deceased dad, who was a cop. Date-free for nine months, three days and seven hours since her break-up, Kate tries to resist friend Rene's numerous attempts to set her up with dates.
Into Kate's world steps George, a homeless alcoholic with a German shepherd sidekick named Bella who loves to bark. The duo has decided that the entrance to Kate's yoga studio is the perfect place for them to hang out, which definitely challenges Kate's savasana.
An uneasy truce develops between Kate, Bella, and George as she learns more about George's history and that Bella adores him. She also learns that Bella was stolen, but George corrects her: "Bella wasn't stolen. She was rescued."  Bella needs costly medicine, and George has a scheme to get the funds needed for his dearest friend in the world.
But George is murdered, and the Seattle cops dismiss it as another drug-related street crime. Kate ends up taking care of the sickly, shedding dog that is the size of a small horse. She also finds that having a murder take place within steps of your business is not the best thing to increase clientele. Despite warnings, Kate takes on solving George's murder. She is also desperate to find Bella a home.
Kate and Bella become unlikely partners on the murder beat and at home when Kate realizes George's murderer is hot on her trail and that Bella may know too much. Weber keeps the plot twisting and turning until its climactic conclusion.
Its fresh writing, social relevance, and suspenseful page-turning plot makes Murder Strikes a Pose a hands-down winner. We look forward to reading more of Kate and Bella's clever sleuthing adventures in the next novel of Tracy Weber's Downward Dog Mystery series.
Murder Strikes a Pose by Tracy Weber was awarded a First Place Category Winner in the Mystery and Mayhem Awards 2013, a division of the Chanticleer Book Reviews writing competitions.
[Reviewer's Note: Even if you don't know your downward dog pose from your dolphin plank, we believe that cozy mystery readers will enjoy this engaging first novel in Tracy Weber's Downward Dog Mystery series.]