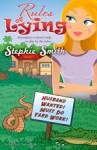 Publisher: Wentworth Publishing (2013)
Buy the book now at:

Amazon
Author's Website
Bridget Jones fans can quit waiting for a sequel. Readers who enjoy humorous stories about single women now have a new heroine: Jane Dough, a bestselling romance author whose boyfriend dumped her—make that a former bestselling author.  It seems his carousing ways have given Jane a load of writer's block. Instead of penning romance novels about rich dukes "hung like stallions," Jane castrates her male characters. Her agent is not pleased, and Jane worries she will never sell a book again.
In Stephie Smith's fun to read mystery novel, Rules of Lying, Jane is tired of the deceptive ways of her mother and five sisters. However, that doesn't stop Jane from posting a 'Husband Wanted' sign on her Florida property, even though the young woman has no intention of marrying. Jane just wants some of the muscles that come with a man–the kind of muscles that will clear her property to please the Home Owners' Association. But somehow, despite her best efforts, her eyes are continuously drawn to the area around the thigh muscles of the more worthy applicants for the position. Even so, she is determined not to get distracted.
Sue, Jane's best friend, finally convinces her to keep an open mind and that "new doesn't necessarily mean wrong." And this is when the fun begins—with a rash in the- you-know-where.
Enter a handsome doctor, a good looking cowboy, some newspaper articles that suggest that Jane has a racy past, a few obnoxious neighbors, a threatening banker, a hurricane,  a tomcat who adopts her, and then mix in Jane's misguided good intentions and her family's —well, you've got a laugh-out-loud story that will keep you entertained to the very end.
While some romantic heroines tangle in a love triangle, Jane's predicament grows into a polygon. Not only is Dr. Rossi a candidate for her heart, with his mansion and vintage Jaguar, the handsome neighbor Hank Tyler also offers Jane money to fix up her property along with his property clearing muscles. Even though Jane's at risk of losing her home and swampy land, accepting money from others is not in her game plan.
Gale force winds descend while she tries to discover the culprit  who is sabotaging her best laid plans to keep her home. Meanwhile, as Jane tries her best to keep her pants on, her friend Sue reminds her of the different kinds of sex she is missing out on: Sweet sex, fun sex, gorilla sex, make up sex…  Jane thinks the whole sex thing isn't going to be that easy when she continuously finds herself looking goofy, once even sporting a muddy foot "complete with its own grass-sprouting wart" when the handsome and rich doctor came a calling.
Readers who enjoy fun and randy mysteries about being caught in the bumbling world of love will greatly enjoy Stephie Smith's Rules of Lying. Jane Dough is a charmer. I was surprised with the ending and am looking forward to reading more about Jane's adventures and her new lease on love.
Rules of Lying by Stephie Smith was awarded 1st place in the Mystery & Mayhem Awards, Humor Category; a division of Chanticleer Blue Ribbon Writing Competitions.