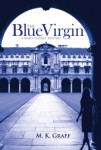 Publisher: Bridle Path Press (2010)
Buy the book now at:

Amazon
Author's Website
Being very fond of British murder mysteries, in print and movies, and on PBS Mystery Theatre (most relevantly, the Inspector Lewis series), I was immediately drawn to M. K. Graff's The Blue Virgin. Thanks to her personal experience while studying literature at Oxford University, Graff is able to set her first published novel in the historical university town with great accuracy.
Graff's considerable literary talent enables her to develop an intriguing cast of British characters—with one national exception: the feisty, attractive, and pregnant protagonist, Nora Tierney, an American writer. Having recently lost her fiancé in an accident, Nora's spirits are raised by winning, as an essay contest prize, the opportunity to collaborate with British artist Simon Ramsey as an illustrator for her children's book about fairies.
As the story begins, the murder victim is still very much alive: Bryn Wallace, a gorgeous former fashion model turned talented photographer, is enjoying a glass of Merlot in The Blue Virgin, Oxford's favorite alternative-lifestyle spot. Her lover Valentine Rogan, a textile artist, joins her, and the two soon head to Bryn's trendy flat. Despite the excellent gourmet dinner Bryn concocts, the two later argue about their plans to move in together, and a morose Val leaves. A bit later, Bryn interrupts her kitchen cleanup to answer a knock at the door. "What…?" she exclaims. "You'd better come in…."
Dawn is breaking when Detective Inspector Declan Barnes is called to Bryn's flat and finds her lifeless body seemingly artfully arranged in the blood-spattered kitchen. After a bit of investigation, it isn't long before he calls on Val Rogan as a suspect,
Later that morning, Val calls her American friend Nora, who is staying at Ramsey Lodge in Bowness-on-Windermere, Cumbria. Her host, illustrator, and admirer, Simon, insists on driving her to Oxford to stand by Val. Much to his dismay, Nora immediately turns sleuth, determined to clear her friend Val of murder charges.
The pace quickens as the plot thickens, when not just one but two more bodies are discovered! Nora is determined to continue sleuthing; Declan is equally adamant that she not intervene in his work, and Simon is plainly worried about Nora's safety. The tension builds as the plot twists and turns on its way to a surprising ending.
You're in for a pulse-raising solid read that will leave you eager to delve into Graff's next Nora Tierney mystery—with hopefully more to come!  Graff's sophisticated writing interweaves eccentric characters, visually rich locales, epigraphs, and well-crafted dialog that together create a delightfully clever and intriguing mystery.
"The Blue Virgin" by M. K. Graff is a First Place Category winner for British Cozy Mysteries in the Mystery & Mayhem Awards for Cozy Mysteries 2013, a division of Chanticleer Writing Competitions.