Are you attending the Association of Writers and Writing Programs 2014 National Convention in Seattle?
WE ARE! And we are excited to be a part of this dynamic organization and AWP's 2014 conference and bookfair!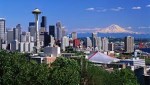 "Each year, AWP holds its Annual Conference & Bookfair in a different city to celebrate the authors, teachers, students, writing programs, literary centers, and publishers of that region. More than 12,000 writers and readers attended the 2013 conference, and over 650 exhibitors were represented at the bookfair.  AWP's is now the largest literary conference in North America.
AWP also holds the next to the largest bookfair in North America.  BEA (Book Expo of America at the Javitz Center, NYC) holds the largest.
We'd love it if you would stop by our booth, #718.
What does this mean for the Chanticleer Community?
If you are a member of the Chanticleer Community and have had your books vetted by CBR's editorial reviews or have won a first place category award or higher, you may bring these CBR vetted  books to our booth to sell, display, and promote. Please email:  DBeaumier@ChantiReviews.com  for more information.
As always, we will continue to display, promote, and (we hope) sell copies of  vetted books that have been provided by Chanticleer Community members as much as possible.
We will have posters made listing our Blue Ribbon contest winning titles and authors and showing off CBR's Best Books.
And you never know who you will find hanging out at our booth…. just saying…. 
Find out what E-BOOK Cards are all about — the next biggest technological wave for the publishing industry.
A chance to meet other Chanticleer Community Members!
Candy & Treats to keep you going
Drawings for Prizes
We will also have drawings for books, author services, and other prizes!
Chanticleer Book Reviews & Writing Competitions – Discovering Today's Best Books

WHEN:  Wednesday – Saturday, Feb. 26th – March 1st
WHERE:  The Washington State Convention Center in downtown Seattle
WEBSITE:  www.awpwriter.org
Chanticleer Book Reviews  booth number is # 718
We invite you to stop by to see what's new at Chanticleer Book Reviews. We will also have treats, booth specials, and camaraderie. And you can learn about our new programs: CBR's Best Books and Chanticleer's Book Club Forum.
We are posting an event page on Facebook and on our Google+ Community of Authors and Readers so that Chanticleer Community members attending can coordinate.
We are looking forward to seeing you soon!
Now this is something to CROW about!  — Chanticleer