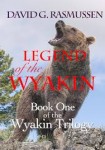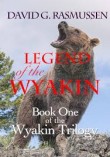 Publisher: AuthorCloud (2013)
Buy the book now at:

Amazon
Author's Website
A Nez Perce shaman's chant about a meadowlark in the prologue draws us into this fascinating, thought-provoking historical novel. The shaman is chanting about "animal spirits…of wyakin…" in 1865. Then the author moves us forward into our time, as teacher/historian/writer John Thompson and his 13-year-old son Steve are exploring along the Missouri River Breaks of central Montana.
Steve strays from his father and encounters a huge silver-tipped grizzly bear. The bear is almost upon him when a strangely dressed boy, about Steve's age, leads him to safety by taking a zigzag path up the loose shale hill. As they near the top, John hears the boy say, in Spanish, "Es Modrables, El Oso" (That is Modrables, the Bear). John grabs Steve's hand and pulls him up. When they look around, the boy is gone, and so is the bear! Astonished and confused, they head for their SUV. Steve pauses when he hears a meadowlark and seems to understand its song, "Listen and see. There is more." But it is John who sees—a group of people, obviously of an earlier time, staring with wonder at the SUV. As Steve catches up, they disappear.
Their shared supernatural experiences compel father and son to research the locale and its history in old ships' logbooks and personal diaries, revealing the stories of true, historical personages.  The writer in John lets his imagination fill in the blanks of the dry historical documents, or perhaps he was inspired by the spirits of the characters—both human and animal—who are brought to life in Legend of the Wyakin.
More than just an enjoyable historical novel, Rasmussen's respect and curiosity for the teaching and traditions of First Nations Native Americans shine through in his writing. He captivated this reviewer with his insight into their beliefs in a spiritual world not just of people, but of animals, trees, thunder, and much more, including riverboat travel on the Upper Missouri River.
As chapter one begins, Rasmussen takes us back to June 1865 when the Gold Rush was in full swing, as Captain Phillip La Mar, in the wheelhouse of his stern-wheel riverboat, Jupiter, enters the day's events in the logbook. His major concern is that three crewmen have cholera—the deadly scourge of the riverboats that ply the Missouri River, carrying freight and passengers destined for Fort Benton (Montana) and the goldfields beyond.
In addition to impatient gold miners, eager to claim a stake and make a fortune, the passenger list includes two Jesuit priests—the arrogant and intolerant Father Dolores and his younger colleague, the service-oriented Father Otis; a Jewish family from Spain—the knowledgeable and skilled Dr. Modrables, his beautiful and helping wife Rosa, and their intelligent and curious 13-year-old son Cortez; and others, such as Mr. and Mrs. Campbell—who soon become embroiled in the struggle for needed cholera treatment resulting from Father Dolores' insistence that Catholic passengers not accept what he contends is the sorcerous treatment offered by the Jewish Dr. Modrables' medicinal herb teas, despite their proven efficacy with the three crewmen and others.
Legend of the Wyakin vividly portrays the mores of the time: racial and religious bigotry, ignorance blinded by fear and greed, rampant disease, and driving desperation that make so many endure danger as they seek a better life. Small acts of kindness from strangers that stand out like beacons in the night during tumultuous and violent times are also vividly conveyed by the author.
Soon, young Cortez has to draw on the strength and wisdom bestowed upon him by his loving and nurturing parents as he finds himself alone in a strange land. He settles himself into the safety of a cave just below the crest of the sandstone cliffs of the Missouri River Breaks. While exploring the prairie beyond the crest, he encounters, and incredibly befriends, an aging grizzly bear, whom he names Modrables, El Oso.
Cortez soon makes another unexpected friend, a Nez Perce Indian boy, Samuel, just his age, who speaks English. The boys share their thoughts on many things, including the Jewish, Christian, and Indian religions. Samuel tells Cortez of the wyakin, the animal spirits that guide and protect the lives of Indians, and says that El Oso is surely Cortez's wyakin, a very powerful one, even though he is not an Indian.
When violence erupts again, the young Cortez encounters more challenges that he feels he alone must shoulder. But one morning Cortez sees El Oso's footprints circling their campsite. His wyakin had been following him, protecting him! In the days to come, Cortez realizes that El Oso will always be with him. And his journey in this new land has just begun. This journey is consistently overshadowed by Cortez's need for a life-changing decision that he must make—should he accept becoming an adopted Nez Perce with the band's safety and family or try to return to the white-world with its uncertainty and loneliness.
"There is
[much] more," as the meadowlark suggests, for Rasmussen's readers (young and old) to enjoy and learn in this expertly crafted tale of adventure and coming of age. We are looking forward to reading the next book in the "The Wyakin Trilogy" saga by this award-winning Western author.