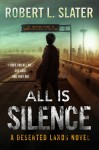 Publisher: Rocket Tears Publishing LLC (2014)
Buy the book now at:

Amazon
Author's Website
Well, not actual silence. Okay, there are spells of eerie quiet. But All Is Silence is quite lively, considering ninety- five percent of the Earth's population is dead in the wake of a lightning-fast viral pandemic. Robert L. Slater's suspenseful, sensitive debut novel takes a grim subject and characters who face disaster, and somehow creates a thought-provoking yet playful futuristic romp.
Slater juxtaposes the tragic (a young girl singing at a loved one's deathbed) with the darkly comic (hey! plenty of unused dishes – throw the dirty ones in the backyard!). He grabs our heartstrings even as he keeps us snorting with laughter at the probability that, yes, this is just what a group of random teens would do if suddenly thrust into this Apocalyptic world.
Lizzie, a suicidal teenager whose mother dated jerks, starts the novel with a backlog of abuse and a chip on her shoulder the size of a concrete block. When the family members she loved to hate all die, she ventures into the deserted streets of her midsized Pacific Northwest hometown and begins liberating the neighbors' pets and collecting cell phones. She discovers that not everyone has died: a few, like herself, are apparently immune, although just as big schmucks as ever. Others survived, but are only half there – the "dog people" – as confused, pathetic, and potentially dangerous as a pack of former pets turned feral.
Devastated and lonely, Lizzie is ready to call it quits, but her final, desperate Facebook post brings childhood friend and would-be flame Zach to the rescue. The two discover their mutual friend Nevaeh has also survived and needs them. From here on out, the novel barely takes a breath as the threesome – with a growing ragtag band of misfits in tow – zooms from snowstorm to wildfire, from Oz-like techno geek to crazed kidnappers, in a cross-country quest to find a stranger from Lizzie's past who might be the key to her future.
Slater offers a sometimes humorous, sometimes incisive look at human nature, as Lizzie and her friends collide with transitional mini-societies that spring up in the wake of the disaster. Organic gardeners organize for survival in one place, while a paramilitary structure springs up to fill the vacuum in another – and everywhere, people are raiding Walmart for guns and ammo. Slater weaves in current global issues, as we realize with a start there's no longer a need to worry about the human carbon footprint or issues of scarcity. "You mean all of a sudden there's enough gas. And enough water," Nev says. Zach adds: "Now a guy can shower you with diamonds after a quick trip to the jewelry store."
Slater's cast of characters occasionally becomes unwieldy, particularly at the end of the book, as new people seem to be drawn in like lead filings to a magnet, while others are thrown off by the centrifugal force of the story's swirling momentum. Some rough edges, such as punctuation goofs, plus a bit of a cliffhanger ending, may mar for some this otherwise absorbing and satisfying read.
Bottom line: Slater draws us into a familiar-yet-drastically-changed world and makes us care about his cranky, vulnerable, sometimes-exasperating, always-engaging characters. His terrifyingly real dystopia reminds us that, really, the only choice for Lizzie, Zach, Nev, and all the rest of us, is to keep loving one another and find some way forward, even when our future is turned upside-down.
All is Silence by Robert L. Slater earned a 1st in Dystopian Category in the highly competitive Dante Rossetti 2013 Awards for Young Adult Fiction, a division of the Chanticleer Writing Competitions.
"All is Silence" is Book One in the "Deserted Lands" series by Robert L. Slater.