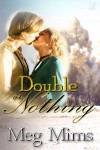 Publisher: Blue Oyster Press (2013)
Buy the book now at:

Amazon
Author's Website
Murder, mystery, intrigue, and romance make "Double or Nothing" by Meg Mims a historical Western page turner. The plot twists, engaging characters, and keen writing will keep you in suspense to the very end.
The mystery is set during the rough and tumble California mining days of 1869. The author, Meg Mims, vividly brings these times to life with her accurate historical research and her clear and striking imagery of bustling towns, dangerous quicksilver mines, and rugged landscapes.
Lily, our protagonist, is a spirited and headstrong young woman who is recovering from her two-thousand mile cross-country journey by train (that was not anywhere as safe and luxurious as she had previously read about in newspapers).
She is still in mourning for her beloved father who died a few days before her twentieth birthday. Lily believes he was murdered in cold blood by one of his trusted business associates whom he was a partner with in a California quicksilver mine. Lily is determined to find the murderer and bring him to justice. She heads out immediately after the burial to Sacramento to her guardian uncle, her father's brother, who also was a partner in the same mine with her father.
Upon her arrival, Lily's Uncle Harrison immediately throws her (Lily will inherit her father's fortune on her 21st birthday) into socializing, attending soirees and hosting his dinner parties.  She quickly finds out he has a hidden agenda; he is intent on marrying her to a business associate in order to further his political ambitions before she comes of age and becomes independent of his guardianship. Harrison has forbidden her from seeing the one she truly desires, "Ace" Jesse Diamond. He is the ruggedly handsome gunslinger who saved her life more than once on her dangerous journey to Sacramento from her Evanston, Illinois home.
Lily is  introduced to the man her uncle has planned for her to marry—Santiago—at a formal dinner soiree. Sparks and witty repartee fly when Ace enters the room and is seated next to them. He looks just as dashing in his cutaway coat and fancy white shirt as he did on horseback wearing his trail clothes.  His good looks, southern drawl, and disarming smile reaffirm Lily's feelings for him.
Ace, as it turns out, is Santiago's business partner. Uncle Harrison then announces to the room of two hundred guests that Santiago and Lily are engaged to be  married. Ace leaves the dinner party in a huff after spitting out a toast to "the couple." And the story has just begun.
Headstrong Lily plans to use a visit to her friends in San Francisco as a way to escape the clutches of her uncle before he forces her into marrying Santiago. The rebellious Lily decides never to return to her uncle. She is also determined to find Ace so she can explain that she had no idea about the engagement and that she would never marry Santiago.
Lily's disappearance sets off a chain of events.  In way over her head, Lily's strength is tested when she realizes just how deep the devious mine owners' scams go and how connected they are to the politicians. She discovers just how low they will go to obtain and to keep their wealth and power when they frame Ace for a deadly explosion. And Lily is the only one who can prove his innocence.
"Double or Nothing" by Meg Mims was awarded the Laramie Awards for Western Fiction First Place for Mystery.  An entertaining Western mystery read with just the right amount of romance. It is the second novel in the Lily Granville Western Mysteries series and we look forward to reading more about more of Lily's adventures. Thank goodness that Meg Mims leaves her readers with the knowledge there is more to come!