Listen to or download this article: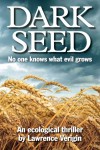 Publisher: Promontory Press (2013)
Buy the book now at:

Bookchain

Amazon
Author's Website
Genetic engineering, murder, corporate-conglomerate profiteering, Interpol, and a plot to control humanity make Dark Seed, by Lawrence Verigin, a suspenseful thriller novel.
When jaded journalist Nick Barnes learns that Dr. Carl Elles has contacted him to say that Barnes' recent article about the positive contributions of Naintosa Corporation is all wrong, Barnes feels compelled to educate the scientist about information laundering—the strategic planting of false information in the media so the planting organization can quote the media later for their own benefit. "It makes total sense," Dr. Elles replies. "Naintosa employs that strategy on a regular basis." Nick was about to explain to the scientist why he needed to check Dr. Elles' information, when the scientist soon proves to Nick  that the journalist is the lazy dupe who just published Naintosa's propaganda in a complimentary article.
Nick Barnes is a likeable, self-deprecating, and disillusioned investigative reporter who has been burned before. He now seems incapable of personally investigating much of the information that falls into his lap, preferring to play it safe. However, the time is 2000, so computerized data and communication systems were not as widely available as they are today.
Nick agrees to help Dr. Elles write an exposé about the actual results and implications of Naintosa's genetic engineering projects. Then Elles is murdered and suspicious events cause Nick to realize that both he and Dr. Elles' daughter Morgan are next on the hit list. They team up and run for their lives.
Through the data in Dr. Elles' notebooks and clues revealed through meditations and dreams, they discover terrifying links between corporations that produce genetically engineered foods, agricultural chemicals, and pharmaceuticals. The implications are so wide-ranging and so frightening that soon Nick and Morgan find they can no longer trust anyone. And they become more and more convinced that they cannot event trust the food that they eat.
The author's personal knowledge of Seattle and Maui, as well as the city of Vancouver, and other places in British Columbia, Canada, shine through with the vivid and detailed descriptions of these locales as the characters race through them. Morgan and other secondary characters are not fleshed out in great detail, but their roles serve to advance the plot efficiently. Verigin deftly includes enough scientific information to ground this "Lab Lit" novel while keeping the reader entertained and in suspense.
Dark Seed: No One Knows What Evil Grows, is a strong debut novel by Lawrence Verigin that adeptly tackles the pertinent and socially relevant topic of GMO's with tight writing and fast-paced action. This thriller's premise of international corporations controlling the food supply and sacrificing human health for the sake of profits is so plausible that it is horrifying. Readers will find themselves rapidly turning the pages to see what happens next in this disturbing "OMG this could really happen"  novel.