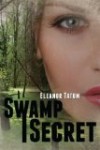 Publisher: Rebel Ink Press (2013)
Buy the book now at:

Amazon
Author's Website
With a cast of quirky, lovable characters and a unique, small-town setting of southeastern North Carolina country, Swamp Secret, by Eleanor Tatum, delivers an engaging tale of mystery, suspense, and romance. Readers will enjoy revisiting old friends and meeting new ones in this delightful sequel to Swamp Run.
Suspecting that trouble might be brewing, Sheriff Earl Cunningham orders Deputy Alex Turner to be present at a local town hall meeting. Alex, who had been planning a relaxing evening watching sports on his friend's large-screen television, is not amused—until he meets Councilman Eugene McLaurin's niece from Chapel Hill, the lovely Dr. Jillian Royal. Jillian, a medical researcher working on a groundbreaking study into childhood obesity, is instantly attracted to the handsome deputy.
As it turns out, Sheriff Cunningham was right to be concerned: The locals are up in arms over the exorbitant water bills for the properties surrounding the local lake that is the area's most popular tourist attraction. Ex-Marine Stephen Kinney has organized a protest at the town meeting, which he disrupts by hinting at corruption and graft by the local council members and demanding answers about missing county revenues from the local liquor store chain. Jillian's uncle becomes uncharacteristically belligerent—so angry, in fact, that he drops dead of a heart attack.
A grieving Jillian and Alex both suspect that something was indeed troubling her normally level headed, ethical uncle. When they question her Aunt Muriel, she admits that her husband had brushed aside similar questions about the water bills from her sister Mildred who lives at the lake, saying that she "not concern herself" and that he "would take care of the problem." Are the lake residents' suspicions well-founded? Are liquor store revenues lining the pockets of council members and others in their sleepy  town? Or are they just troublemakers?
The mystery deepens when Police Chief Joseph Sutton from Swamp Run fame breaks up a meeting at Mildred's house on the lake to discuss the water bills, citing an obscure crowd-control ordinance that forbids more than four cars to be parked at one house on the lake without a permit. He wonders if the sheriff is merely concerned about his re-election, or is he a party to rampant graft? And what—if anything—does his connection to the mysterious Mr. Malacouti have to do with recent events? As more lives are put at risk, Jillian must use her medical investigative skills to help Alex unravel the mystery.
Clever dialogue, humor, and a healthy dose of romance between Alex and Jillian will surely delight romance readers. Providing a deft balance of romance and mystery, Tatum plants intriguing clues and steadily builds suspense in a way that had this reviewer eagerly turning the pages to discover who is embezzling town funds and endangering the lives of its citizens.
Swamp Secret by Eleanor Tatum earned First Place for Southern Romance Category, the 2013 Chatelaine Awards, a division of Chanticleer Blue Ribbon Writing Competitions. We look forward to reading the sequel!