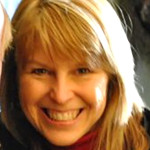 Elizabeth Dimarco, marketing executive and co-founder of the "Books I Love" mobile app and will present a session on "Discovery Matters" at the Chanticleer Authors Conference 2014.
An accomplished author, technology geek, and marketing guru,  Elizabeth works with with CEOs to think creatively to generate visibility and competitive differentiation in a cluttered marketplace−skills required for book discovery. Elizabeth thrives on audacious ideas that are game-changers.
As authors,  Elizabeth says, we expend blood, sweat and tears to transform our ideas, plots and characters into readable formats for the world to discover. But, once they're available in tangible form, how do our books gain their readership?
Find out how by attending Elizabeth Dimarco's  session on "Discovery Matters" at the Chanticleer Authors Conference. She was asked to present this topic at the Book Expo of America in NYC this past May. It is a session not to be missed!
Elizabeth will also demonstrate the "Books I Love" app at the Books By the Book Fair on Sunday, Sept. 21st that is associated with CAC.
The "Books I Love"  is a "word of mouth" recommendation app that allows readers to recommend books on the go–at home, at work, at play.  The app is free, uber-easy to use, and makes it FUN to recommend a favorite read! The approach is a win-win for readers and for authors/publishers.
We invite you to meet other members of the Chanticleer International Community of Authors at this fun and informative three day event featuring:
CBR Awards Banquet – You don't have to be a CBR winner to attend this exciting event.
Sessions, workshops, and panel discussions
Keynote Speakers: Shari Stauch and Diane Isaacs
Networking opportunities
Prizes and drawings
Books By the Bay Bookfair
Join us at the elegant  Hotel Bellwether on beautiful Bellingham Bay. Register today!