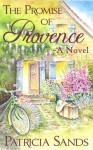 Publisher: Patricia Sands (2013)
Buy the book now at:

Amazon
Author's Website
The Promise of Provence can be said to be a beautifully phrased travelogue that is a pleasure to read. It can be highly recommended on that merit alone. You can almost smell the lavender, hear the bells on the goats tinkle, and sip the local wine as you escape into the story.  However, what truly makes this novel stand apart is how deftly the author, Patricia Sands, shares the gentle life lessons that we all could be reminded of especially nous les femmes d'us certain âge. This novel's story particularly resonated with me.
Sometimes you are heading along at full speed heading toward a known direction, and then someone, something, changes the track you are on without any warning. You are now heading someplace new and probably still at full speed. However, now you don't know where you are going or where you will end up.  This is what happened to our protagonist, Katherine, when she came home expecting the usual traditional anniversary dinner with her husband James of twenty-two years only to find a note telling her that he has left her for another woman and that they are expecting a baby.
This is when Kat's awakening begins. This is when she realizes the importance of girlfriends, of getting help when you need it, of reconnecting with your loved ones, of finding new ways of doing things, and being open to new possibilities. Nevertheless, like all awakenings, Kat's is not without its twists and turns and unexpected bumps.
What I thought that was exceptional about "The Promise of Provence" was how Sands weaved in Katherine's past life with her ex-husband.  She deftly intersperses how Kat relinquished control of her life to James bit by bit in many aspects from everyday little innocuous things, to influencing her relationships with her friends and her aging mother, to how their vacations and free time were spent.  The author does this sparingly and with aplomb so that the story moves forward, but she reminds us how easy it can be to give up our power and our dreams without even realizing it.
We get to meet Anyu, Kat's Jewish mother. We learn of Anyu's family's history in WWII Hungary and that Anyu barely escaped with her life. We learn, with Kat, that Anyu's life was totally derailed when she was a teenage girl—never to be the same. Anyu finally shares with Kat her experience of a terrible betrayal and the horrors that she and her loved ones endured during the war, but as she does, she also gives Kat hope, gratitude, and optimism for the future.
And, of course, girlfriends play a major part of the story: the inexhaustible and verbally expressive Molly, steadfast Andrea, and the new ones she makes along the way. Sands truly captures the camaraderie and support that true friendships can afford us. She gently reminds us that taking the time to nurture and value friends will make our burdens lighter and our joys greater.
The allure of France helps to draw Kat out to explore and rediscover life's pleasures along with the capacity to love again in this inspiring and satisfying novel.  We look forward to reading Patricia Sands next novel, Promises to Keep, to find out where Kat's journey and new lease on life takes her—and us.