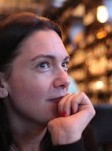 Jennifer Kohout, co-founder of "Unbound Words," a digital bookselling technology-based company, will present a session on Audio Books – ACX at the Chanticleer Authors Conference 2014.
After practicing law for ten years,  former attorney, Jennifer Kohout decided it was time for a change. She has been writing full-time since 2012 and has published ten titles, five of which are currently offered as audiobooks.
Too many authors have been left out the quickly growing digital audio market. Today's busy "readers" listen to books while they commute, exercise, stand in line, or even while taking care of household chores. Today's fast-paced lifestyle demands multiplexing!
Audiobooks can help you reach expand your readership by allowing you to reach this busy target market.  Jennifer will present an overview of  ACX, the leader in audiobook technology, to get you started and headed in the right direction to take advantage of this new publishing tool.
Get your title up and out there to this growing market! ACX has revolutionized the audiobook creation process. ACX puts you in the driver's seat! ACX was just acquired by Amazon, the leading provider of audio content and entertainment.
Jennifer is also an author of dark and sexy paranormal romance novels that are considered to be "unconventional.  She has seven novels and three novellas published.
Jennifer Kohout will also demonstrate at how "Unbound Words" can increase your book sales at the Books By the Bay Festival on Sunday, Sept. 21st, sponsored by Chanticleer Book Reviews.
We invite you to meet other members of the Chanticleer International Community of Authors at this fun and informative three day event featuring:
CBR Awards Banquet – You don't have to be a CBR winner to attend this exciting event.
Sessions, workshops, and panel discussions
Keynote Speakers: Shari Stauch and Diane Isaacs
Networking opportunities
Prizes and drawings
Books By the Bay Bookfair
Join us at the elegant  Hotel Bellwether on beautiful Bellingham Bay. Register today!