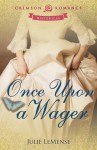 Publisher: Crimson Romance
Buy the book now at:

Amazon
Author's Website
All his life, Alec Carstairs, the eighth Earl of Dorset, has been under pressure from his father to behave in a manner becoming of his station. Alec is expected to follow in his father's footsteps; settling into the political career that is his legacy by succeeding his father in the House of Commons, and perhaps most importantly, choosing a wife who will be a boon to his career. Unfortunately, the list of candidates that meet the elder Carstairs's approval most decidedly does not include the unsuitable yet lovely and spirited Lady Annabelle Layton, Alec's childhood friend.
Annabelle is everything Alec's father fears: a headstrong and undeniably beautiful young woman from a family with a certain reputation in London society. Annabelle and Alec, along with her rakish brother Gareth, spent their childhoods together, playing on the Layton estate, but in recent years, Alec has done his best to avoid Annabelle, appalled to have discovered that his feelings have grown into something far stronger than a mere childhood friendship. Not only does he believe such feelings are improper, he is determined to do his duty according to his father's wishes.
An invitation to Gareth's birthday party at the Layton estate threatens to dissolve Alec's determination to keep his distance from Annabelle. In defiance of his father, Alec spends the weekend with Gareth, determined to keep an eye on his friend who has acquired libertine habits and new, unscrupulous friends. The chain of events that is set in motion during that weekend will affect the lives of all involved for years to come.
Ms. LeMense has created a cast of characters with whom the reader can immediately identify. The author's attention to historical accuracy paints a vivid picture of the culture of that timeframe—a society in which honor, duty, and misunderstandings were frequently dealt with according to rigid rules of behavior and communication. Alec and Annabelle's strength of character carries them through this austere and strict world.
With a naturally gifted writing style, Ms. LeMense has written an engrossing novel about love, honor, and betrayal. This reviewer looks forward to reading more from this very talented author. Ms. LeMense has penned a nearly flawless debut Regency Romance that will have fans of the genre begging for more.