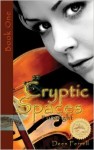 Publisher: Curio Creative (2013)
Buy the book now at:

Amazon
Willoughby Von Brahmer hates high school, feels restless at home, and fumbles awkwardly around girls, yet is fascinated by the charismatic celebrity violinist his own age, Sydney Senoya. He seems like a pretty typical sixteen-year-old. But when the reader begins to untangle the mysterious web of Foresight, it becomes clear that Willoughby's life is anything but typical. Foresight is Deen Ferrell's artful and ambitious first Cryptic Spaces novel.
Willoughby's quasi-ordinary life begins to unravel during a routine visit to the barber. Not so ordinary, really: Willoughby is a math prodigy who at twelve solved The Riemann Hypothesis, a puzzle that had stumped mathematicians for centuries. His barber, Antonio Santanos Eldoro Chavez, has extraordinary expertise in architecture. All vestiges of routine evaporate when, during his haircut, Willoughby spies a string of glowing numbers suspended in the air in the corner of Antonio's shop. Then, everything in the shop freezes except Willoughby himself and a skeletal-faced man appears, nods to Willoughby, and then just as quickly disappears leaving Willoughby shaken but intrigued.
The story picks its way deliberately through Willoughby's gradual discovery of a secret society of time travelers, Observations, Inc., apparently headed by the brilliant yet cryptic Hathaway Simon (H. S.), with the support of the enigmatic Sam, who Willoughby has known for years as his family's chauffeur. Willoughby signs on to join a team of handpicked savants who will explore time itself, but soon learns that Observations, Inc. is not alone in the time-travel business – and their competitors are far less benign.
The story kicks into high gear during Observations, Inc.'s initial team-building exercise on a "cruise" ship with unusual capabilities, where Willoughby and Antonio meet the talented and mercurial Sydney, as well as James Arthur, an aura-reading healer, and T. K., the cabin girl who, like Sam, is more than she seems. Before the cruise ship's team embarks on their first mission, a gang of supernatural crooks stages a mutiny.
Ferrell's gifted descriptions, from Sydney's music to the experience of time travel, bring the story to life. The cast of characters is deftly drawn and admirably diverse. Some younger readers may find the density of the plot daunting, but others will revel in the richness of the history and science brought to the subject of time travel and prognostication.
As the Observation, Inc. team's voyage of exploration becomes a battle for survival, Willoughby, Sydney and their friends realize they are bound together by more than curiosity. They need each other's talents, commitment, and compassion if they are to get through time and space alive. Foresight is a rich and complex YA sci-fi story.
 Cryptic Spaces: Book One: Foresight earned  a First in Category position in the Dante Rossetti Awards for Young Adult Fiction, a division of Chanticleer Blue Ribbon Writing Competitions.