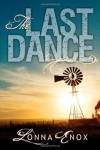 Publisher: Wasteland Press (2012)
Buy the book now at:

Amazon
Author's Website
Lonna Enox's The Last Dance is a twisty mystery set in small town Saddle Gap, New Mexico. When Sorrel Janes inherits an aunt's house and art gallery in Saddle Gap, she decides to flee her big city secrets and start fresh. But this doesn't turn out to be as simple as it sounds—when a young woman is murdered just outside the town bar, Sorrel becomes an important witness after her first night in town.
Even as Sorrel works to renovate the gallery in time for a Memorial Day opening, complications begin to pile up. Originally intending to work as a local interest photographer, she starts her new career by getting called to yet another crime scene. It seems that murders are thick on the ground in this supposedly placid community.
As the reader gradually discovers the secrets of Sorrel's past, her skittish nature begins to seem more reasonable. An up-and-coming television crime reporter in Houston, Sorrel dealt with the less savory elements of society without fear. One day, however, she came home to discover her husband had been murdered. Out of fear that his death may be related to her career, she goes into hiding, assuming a new identity and a new life.
With help from a friendly local woman who seems to be related to half the town, Sorrel begins to rebuild a life. Her attempts at normalcy are hampered by local sheriff Chris Reed, who is both dangerously attractive and persistent in pursuing Sorrel as a suspect in the first murder. Even as their relationship progresses, Sorrel cannot trust that his intentions are genuine.
A series of petty crimes on Sorrel's property as well as her job at the newspaper draw Sorrel deeper into the developing mystery. Has her past followed her to Saddle Gap? Determined not to run from a life she is beginning to discover she wanted all along, Sorrel resolves to stand her ground even in the face of turmoil. She is aided by guidance from her former photography professor, John, her only remaining connection to her former life.
Charming secondary characters and the antics of Sorrel's cat Flash add color and depth to the narrative, enhancing the small town feel. While the quick ending may disappoint some readers looking for a more complex mystery, Enox has a deft hand with atmosphere and characterization. This is the first in a new series of mysteries featuring Saddle Gap, and readers will find it a comfortable place to revisit.
The Last Dance by Lonna Enox was awarded Best Debut Novel in the CLUE Awards for Mystery/Suspense/Thriller Fiction 2013, a division of Chanticleer Blue Ribbon Writing Competitions.