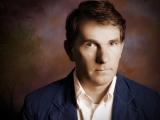 Michael Hurley, the author of The Prodigal, was presented with the $1,000 Grand Prize purse at the Chanticleer Awards Gala in September that was held in Bellingham, Washington. The awards gala is a part of the annual Chanticleer Authors Conference. Hurley was awarded the cash prize along with a custom embossed blue ribbon as the grand finale of the CBR Awards Ceremony. The ceremony recognizes CBR's best book discoveries of the year.
CBR uses Editorial Reviews and International Writing Competitions to Discover Today's Best Books.
 
The evening before, Diane Isaacs, an Emmy-nominated executive film producer, announced at the conference's cocktail soiree that she had recently contracted  The Prodigal for film rights. She explained that announcing the event at a cocktail party was apropos since it was at a cocktail party that she first heard about The Prodigal. Diane Isaacs met Kathryn Brown, the founder and president of Chanticleer Book Reviews, at a cocktail party at Brown's home this past February. It was here when Diane asked Kathryn if she had read any good books lately. Kathryn told her about The Prodigal and promised to send her link to Chanticleer's review of it. At the time, Kathryn didn't know that Diane was an executive film producer and Diane didn't know that Kathryn was a scout for media professionals. Luckily, the two hit it off and stayed in contact. They are currently working together on several projects.
Diane Isaacs is an Emmy-nominated Hollywood producer and former head of Green Moon Productions for Antonio Banderas and Melanie Griffiths. She trained at NYU Film School and found her first job on The David Letterman Show; she later became associate producer of Miami Vice. She was head of Don Johnson Productions at Universal/ Paramount Studios before going to work for Banderas and Griffiths. She has produced several critically acclaimed films, including Imagining Argentina, starring Banderas and Emma Thompson, and Crazy in Alabama, starring Griffiths.
Isaacs said, "Chanticleer's review is compelling. It got my attention and is a game-changer for The Prodigal by Michael Hurley." After reading Chanticleer's review, she  immediately read Hurley's work and was enthralled with it as was Brown. Six months later, an agreement was entered into by Hurley, Isaacs, and Brown.
A little statistical information about the film and publishing industry: only one percent of all novels are ever optioned for film. And only one percent of all books optioned ever make it out of development onto the silver screen. But as Hurley wrote about in his blog about "Tinseltown dreams:"
It's a great honor to have a novel optioned for film….But when your dream is shared by people who are in the dream-making business, well, that's really something…But dreams are funny things.  They appear from nothing, refuse to die, and have the strangest habit of coming true at the darkest hour, when all seems lost. Sounds like a novel I know."
To read Chanticleer's review of The Prodigal by Michael Hurley, click here.